Meet our Mustangs: Drake Cobb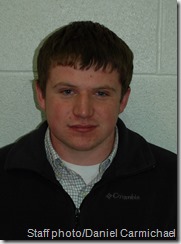 Drake Cobb
DANIEL CARMICHAEL – Hoof Prints Staff
Tractors, baseball, and hunting. These are the thoughts that consume Drake Cobb during a normal day for him.
Drake Cobb has been a long time student at Buffalo Island Central, attending since kindergarten. While here he takes up time with basketball, baseball, and FFA.
Outside of school, Drake helps his dad on the farm by driving a tractor and other farm-aid activities.
Drake has been playing sports for most of his life. Baseball, his favorite sport, is the biggest sport he plays being that he has played since he was four years old. At the beginning of the year, he joined the basketball team as a manager.
School takes up most of his time, but while he is here he likes to go to history class and read fiction books.
"I don't read much, but when I do I like to read fiction books," Cobb said.
In his elementary years, Cobb always looked forward to recess.
"I liked recess because we could do whatever we wanted and we would always get in trouble," he said.
Drake can be described as a funny, outgoing, energetic person who loves basketball and baseball, and goes to games when he gets the chance to cheer them on.