MC Yates back on the mic at the fair
Justin Yates is known for coaching the Lady Mustangs basketball team, but for the last seven years, he's helped put on concerts for the Northeast Arkansas District Fair.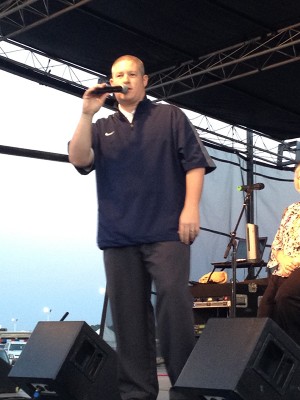 Yates was good friends with the district fair manager's son, and with them being short-handed one year, they asked if he would help out. The job became an on-going thing, ranging from taking care of the artists that were performing to being an emcee.
While Yates has helped with the artists, he has also acted as an emcee for the gospel nights at the fair twice.
"My first time doing it was for this group called The Martins, which are a big Southern gospel group, though we try to book more local acts," Coach Yates said.
"
One time I played golf with some of Luke Bryan's band members."
— Justin Yates
Along with bands from the area, Yates has worked with artists such as Luke Bryan and Justin Moore, both of which have performed in large venues.
"A lot goes into putting on a concert," he said. "There's a lot of coordination. You have to get with the sound guys and the lighting guys. You have to move the artists' gear on the stage and off the stage. You have to make sure everything is set up the way they want it, within reason."
Taking care of the artists is another part of Yates's job. "There were a lot of times where I would take Mondays or Tuesdays off. The bands would get done with sound check at about 10 o'clock, and there may be two or three band members that want to go play golf, and we would arrange for that. One time I played golf with some of Luke Bryan's band members."
Yates will go on stage on Thursday, September 24, at 6:30 p.m. as the master of ceremonies for the evening's grandstand concerts.