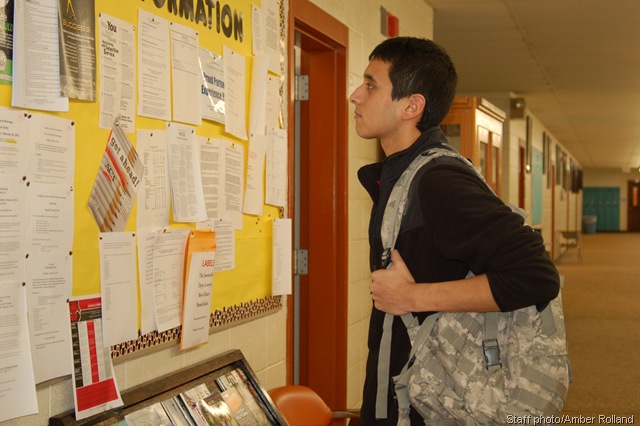 Steven Marroquin
AMBER ROLLAND – Hoof Prints Editor
The Marroquin family had known this day would come for several months now.
Some of them had been dreading it but at least one of them had approached the day with a sort of nervous excitement. All of the temporary goodbyes had been said and the hugs had been exchanged.
The tears started to fall from his mother's face as Steven watched his older brother Victor joined the Army recruiter so that he could be shipped out to basic training. That day in June 2009 cemented senior Steven Marroquin's interest in the Army and his family will probably experience déjà vu if he continues with his plans to enlist next semester.
When Victor made the decision to join the Army earlier that year, Steven saw a change in Victor that was soon reflected in himself. They both began to run and eat healthier, shedding weight in the process. Even though Victor is currently stationed in Texas, Steven still continues to prepare for his future in the Army. He runs a mile or two after school before heading home to lift weights and complete repetitions of push-ups and sit-ups.
"You have to be in good condition," Steven said. "You don't really work out in weight rooms in the Army or anything. You do push-ups and you run."
Steven's cousin, fellow senior Cesar Marroquin, used to be in better physical condition than Steven when he first began working out. Now the tables have turned.
"I tell him, 'Steven, you run whatever you're going to, and I'll run what I'm going to because I don't want to hold you back,'" Cesar said.
Steven's physical appearance isn't the only thing that's changed, disproving Cesar's initial thoughts that Steven only wanted to join the Army because he plays Call of Duty and Modern Warfare and thinks it would be easy.
"Steven's completely transformed. He's absolutely sure he wants to go into the Army," Cesar said. "Before, Steven wasn't really the calmest person. He would cause trouble and be childish and now he has just transitioned into a more mature person."
This new mentality has enabled Steven to cope with not being able to see his brother as much as he used to, though they text each other almost every day.
"In the beginning it was hard," Steven said. "I'd been with my brother every day and all of a sudden it's this big change because he's not there anymore. The house felt empty."
Steven is currently planning to join the Army toward the beginning of 2012, depending upon when he would ship out to begin basic training. Like his brother, he wants to have some type of work with tanks. Victor is ready to support Steven as he follows in his footsteps.
"I'm behind him 100% because I've been there in his spot," Victor said, "and support is something you need."
Though Victor unquestionably holds a significant amount of influence over Steven, he isn't solely responsible for Steven's choices that will affect his career and future. He ruled out college because it didn't seem to fit his personality.
"I'm not a book type of guy," Steven said. "I'm better at working outside than inside classrooms."
When Steven ships out to basic training, he will be sent off by the same caring and concerned group of family members that saw his brother off. There will undoubtedly be teary goodbyes and difficulty adjusting to his absence. It will be the same as that day in June 2009, support included.
"I don't want him to leave," Cesar said. "We didn't want Victor to leave. Our families lived together at one point, so we grew up together. My sister Karla and I don't see Victor and Steven as cousins; we see them as brothers. But as much as I don't want Steven to go, I have to accept it."