Love where you learn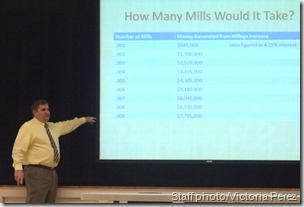 Superintendent Gaylon Taylor discusses possible construction projects at the recent public meeting.
VICTORIA PEREZ – Hoof Prints Staff
Since BIC was formed in 1984, only one music building has been built and no further construction for educational purposes has been made. At 5:15pm on January 30, the school board came together to approve the proposal to build a new K -12 school building.
After two town meetings, a majority of community members who have attended these meetings supported the new school proposal.
"Everybody that came to me wanted a K-12 building near the county line," board member Nathan Sanders said. "In that meeting, we talked about whether there was any negative feedback.  There were very few but as a whole, we had overwhelmingly positive reactions for a new building."
According to Superintendent Gaylon Taylor, several weaknesses brought about the need for change in the Buffalo Island Central area. Solidarity, lack of technology, old facilities, lack of vocational opportunities, and an inconsistent curriculum were some of the shortcomings that were mentioned during the town meetings.
"We will never be together until we are together and I truly believe that," Taylor said. "I truly believe that every one of these teachers should be working hand-in-hand."
All of these factors were said to be limiting the opportunities for students and preventing them from reaching their full potential.Despite the weaknesses, BIC also has strengths such as a small staff, strong leadership, community support, family atmosphere, small classes, professional climate, pride and a reputation for strong academics.
A suggested solution was to create a new building and start from the ground up. Not only is this believed to eliminate the weaknesses, it is also expected to reinforce the strengths. Members of the school board and Taylor say they believe that the new aspects of the building will provide more opportunities such as an area vocational technology program, auditorium for performing arts as well as new science labs.
Fine arts facilities
An auditorium is one of the main aspects of the new building that has been mentioned countless times by Taylor. The construction of an auditorium will be able to provide students with new programs such as drama club or other fine arts institutions, which will increase the amount of opportunities for students with such interests.
Student safety
Another improvement that will be seen with the creation of a new school site is safety from intruders. If funding is sufficient, Superintendent Gaylon Taylor hopes to create a safe room as well to ensure the safety of BIC students. A new building will allow less entrances for intruders, which means less risks for students and staff.
"Right now we have students that travel out in the open to the gymnasium so they are out of the protection of the school building.If we are all together, then the safety will be improved for the students." said Sanders.
Technology innovations
With the innovations made in technology daily, the BIC community is considered to be behind the times. Although wireless internet was installed this school year, expanding technology further is said to be a feat because of the old, solid school structure.
"In order to implement new technology, you have to have the infrastructure to do that, so for us to come back and rewire buildings is a struggle. Putting money into old buildings like that just doesn't make much sense." said Taylor.
P.E. facilities
With this construction, a new physical education facility will also be included. This facility will be used for physical education purposes as well as possible basketball practices. Although this building may be used for practices, the Mustang Athletic Complex will still be continued to be used for high school practices as well as basketball games.
Yet another point Taylor made during the town meeting was the fact that this proposition will increase the teachers' planned collaboration therefore, creating a consistent curriculum. Also, teachers that have to travel between buildings will no longer have that inconvenience, which also saves the BIC school district money because they would no longer have that traveling expense.
"I just think it would be much better for us from the educational standpoint if we have everybody together," Taylor said. "We'll be able to bring the minds of our teachers together so that they can collaborate with each other, which can do nothing but help us improve academically."
Although there will be an abundant amount of staff once all BIC schools are combined into one building, both Taylor and Sanders state that their goal is for every teacher to keep their position.
"Our plan is to not eliminate jobs, but every year there's just a natural attrition and teachers quit or change positions and at that time people just won't be replaced," said Sanders.
Moreover, heating and cooling one building rather than multiple facilities will also greatly decrease that amount of spending for the district. By spending money for a new building, the BIC community is also saving money with heating, cooling, maintenance as well as other areas.
Location, location, location
Although the members of the school board do not yet have a particular area chosen for the new building, they hope to acquire a location that is a mile in either direction of the Mississippi and Craighead county lines.
Taylor, along with many community members, aims to have the new building's site near the Highway 18 area in order to possibly increase enrollment.
"When someone drives by Highway 18 and they can look and see the new school they'll want to move here," Taylor said. "Parents look for the best for their children and they don't want them to go to school with run-down facilities.I think they'll see the new building and we will get growth."
Taylor stated that by creating the best school facility possible, the district will be able to provide the best opportunities for students.
"If you know we have the best drama, FFA program, athletics program and academics program they're going to want to come to Buffalo Island," Taylor said. "If you offer the best,and you strive for the best, then it attracts the very best and that's exactly what we want."
The time range for this building project is estimated between one to three years, yet there is no definite time period. Matters of engineering, funding, location and architecture are some factors that will determine how long it will take for the new building to be constructed.
"I think the overall vision of the new building is to provide the best possible educational opportunity to every student that is in the Buffalo Island Central district and to give them every opportunity to succeed in whatever area they choose," said Sanders.
A new building means that a millage increase will have to be implemented for  the district's patrons.
"It affects everybody differently depending on how much assets they have," Sanders said. "On the district's webpage, there's a Powerpoint presentation that explains what the tax consequences."
Despite the fact that the decision to move forward with plans of a new building have been made, this will not be possible if community members do not participate during the voting taking place sometime in September or October of this year. However, there will be no millage vote until a definite construction site is determined.
"To do this project, we're going to have to increase millage, and to increase millage the people need to come out and vote for it," Sanders said. "We need people to be behind this and to support the millage."