Journalism staff wins big at national convention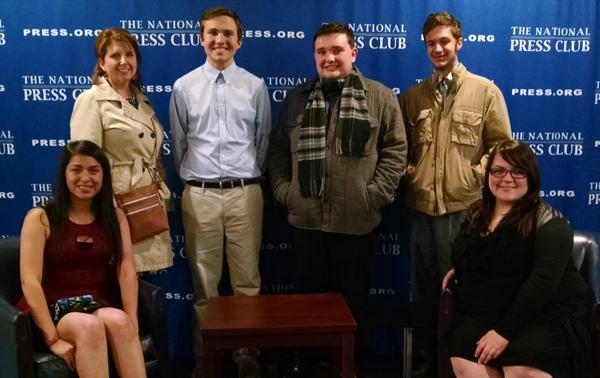 Three members of the journalism staff brought back awards from the Journalism Education Association National Convention in Washington, D.C. last week. Those attending the convention were Greydon Williams, Camden Metheny, Joanna Perez, Drew McFall and Olevia Hughes.
Williams was awarded a superior award in the portfolio category of the JEA Write-Offs. In this contest, which students can only enter once in their high school careers, five to eight photos are submitted to judges. Only four students were awarded superior status.
Some of the comments from the judges included, "Really strong portfolio, great variety, good eye for capturing moments" The judges also noted in the Sunday awards ceremony that the category had the toughest competition of all the contests.
Metheny earned a superior award in the portrait category with his portrait of twin brothers Jessie and Joey Penix.
The judges remarked about his entry, "Very creative composition. Black and white is an excellent choice and really displays the subjects' similarities and differences as well."
Perez competed in the first-year photo category, which is reserved for those students in their first year of journalism. Her photo was taken at the recent Harlem Wizards basketball game and earned an honorable mention.
The judges' comments included, "I think this is a fun picture. Lots of faces, lots of energy. Great moment and EXCELLENT rule of thirds composition."
Adviser Tracey Yates was thrilled with her students' results.
"Only 38% of students who entered the JEA Write-Offs were awarded any level of recognition, however, 60% of our staff came home with awards," Thompson said. "Even the students who didn't win awards had encouraging remarks from the judges, and both of them are just first year students, with just a couple of months of journalism instruction behind them."
The convention also consisted of a keynote address from Watergate reporter Bob Woodward and instructional sessions from renowned journalism educators. The setting in Washington, D.C., also allowed students to tour various areas of historical significance.
Yates and her students toured the U.S. Capitol, the White House, the Smithsonian Air and Space Museum, the Newseum, the United States Holocaust Memorial Museum, Arlington National Cemetery and the monuments along the National Mall. They also had dinner in The Fourth Estate Restaurant, which is housed in the National Press Club.