Journalism staff wins at ASPA convention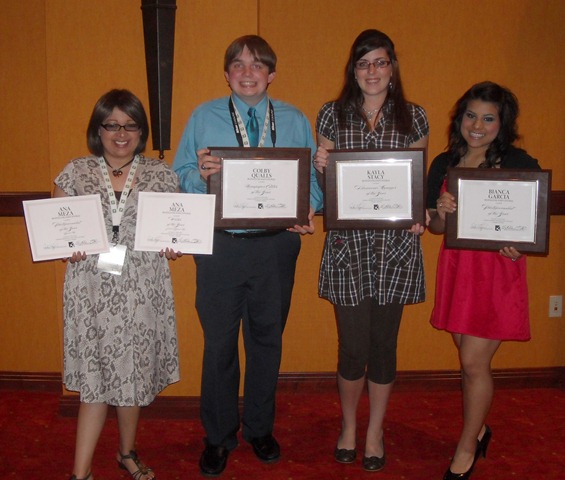 Ana Meza, Colby Qualls, Kayla Stacy and Bianca Garcia display the honors they received at the Arkansas Scholastic Press Association convention in Rogers Thursday night.
The BIC journalism staff had their most successful ASPA convention experience this week in Rogers. At the convention banquet Thursday night, three staff members earned the distinction of being named the top journalists of the year in their preferred areas.
Colby Qualls was named Newspaper Editor of the Year for 1A-2A schools, Kayla Stacy was awarded the title of Business Manager of the Year for 4A and under schools, and Bianca Garcia was given the award for Photojournalist of the Year for 4A and under schools.
Ana Meza also earned the runner-up award in the Photojournalist of the Year category, and she was named second runner-up Writer of the Year for 4A and under schools.
"I was hoping to come home with one of the year honor, and I was so excited that we ended up with three and two runners-up," said Tracey Yates, journalism adviser. "I could not be more proud of my staff."
Also at the banquet, Dr. Kima Stewart and Mr. Randy Rose were recognized as Administrators of the Year by the organization. Their joint award marks the first time in ASPA history that two administrators were given the title. After receiving their award plaques from ASPA director Allen Loibner, Stewart and Rose were given the opportunity to address the crowd of over 700 student journalists at the banquet.
The staff also came home with many awards in the convention mail-in contests, including three superior awards. Ana Meza earned a superior in the newspaper feature photograph category and the yearbook academic photograph category. Colby Qualls received a superior in the yearbook club photograph category, and his photo was also recognized as the most outstanding superior winner in the category. The work judged the best of all the superiors in each category is included in the Best of ASPA collection.
"We were so excited to see that Colby's photo from the junior high Kiss the Pig was named Best of ASPA," said Yates. "This is the first time we have ever been included in the Best of ASPA. It's quite an honor."
Members of the staff also earned six excellent awards and eight honorable mentions in the mail-in contests. In the on-site competitions, Kayla Stacy won second place in the news writing category. Ana Meza also won an honorable mention in the news category from the Arkansas Press Women in their mail-in competition.
Attending the convention were staff members Colby Qualls, Bianca Garcia, Kayla Stacy, Ana Meza, Megan Misner and Madison Finch.