Jackson a pleasant surprise for choir students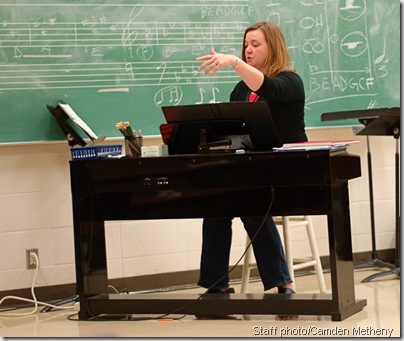 Choir director Mary Jackson leads her eighth hour class. Jackson is proficient on the piano, which her choir students agree helps them learn their music.
CAMDEN METHENY – Hoof Prints Staff
It was an emotional day when Mr. Kane Bradley, the former choir director, said he was leaving to pursue his master's degree.
In his two years at BIC, Bradley had made a lot of progress. Choir members feared that all of the progress would be gone. Opinions were changed after the first meeting with Mrs. Mary Jackson, the new choir director.
"I absolutely love Mrs. Jackson," said senior Codey Pate, fourth year choir member. "To be honest, I kinda like her more than Mr. Bradley."
Mrs. Jackson has been teaching music for 14 years, in cities such as Kansas City and Memphis. Coming to a small school like BIC is a big change.
Coming from a Memphis school, she's used to having a more diverse and larger choir. Having a total of 12 members in just the high school choir makes a major difference.
She found the job for choir director while browsing a job website for teaching positions. She was teaching in Memphis and had to commute from Jonesboro after getting married in March. A closer job was much needed.
Whether she's playing second violin for a bluegrass group up in the mountains or jamming out to Maroon 5, music will always be around her.
"Music is organized sound," she said. "You could bang on trash cans and call it music."
One of the most interesting things about her isn't the fact that she's ridden 100 miles on a bicycle, but that she went to a music program specifically for singing a capella, called Harmony College.
"There would be people just singing randomly during lunch," she said.
Mrs. Jackson had received a scholarship to go to this school so she could improve her vocal talents and abilities that are welcomed in the choir program for this upcoming school year.
Mrs. Jackson also has a variety of plans set up for the choir program. She intends to get them more involved in the community, whether it's singing the National Anthem at sporting events or performing concerts in local venues. She also intends for them to compete in Solo and Ensemble, where they have to learn a song and perform for a judge.