Island infestation
Senioritis hits the Class of 2016
As the second semester steadily creeps toward the arrival of summer, chaos lingers among every corner within the BIC high school. Scholarships swiftly begin their journey to local post offices and zip through the cyber world. Caps and gowns are strung among classrooms and bathrooms as they are tailored to perfection. Countless photos are taken and retaken before being hung along the long hallways – joining the smiling faces of the past.
For seniors, this is one of the most tiresome and emotional stages in their lives. As they trudge through these last few milestones together, they often spread the symptoms of a common, contagious illness – senioritis.
'Tis the season for the infestation. Multiple seniors catch the virus annually – most often during the last few months prior to graduation. The effects range from mild to severe and present themselves at various different times. No one is safe from its path.
While those infected express the symptoms differently, they are all anxious to experience a life beyond the high school hallways.
"I am looking forward to graduation because I feel like I've done my time," Sarah Vaughn said. "In high school, nothing much changes each year so I'm ready for a change." 
"
In the real world, you don't have anyone to keep you on track.
— Travon Cobb
As the graduating class begins their journey on different paths, they will undergo various different changes in daily lifestyle, pace, and even freedom. Rules against chewing gum and ripped jeans will be long gone.
"I will not miss homework and the lack of freedom as to how you choose to work or learn," Travon Cobb said. "In the real world, you don't have anyone to keep you on track." 
Blaire Wildy added to this statement by saying, "I won't miss the school's dress code! I can't wait to wear my Nike shorts every warm day in college."
Many will also be granted with the freedom to set their own schedules, including the times of their classes.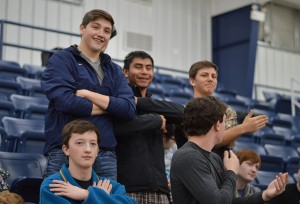 "I won't miss getting up early and the drama in high school. Mostly, getting up early. I can't stand it, " said Dylan Hurst.
Though a large majority of the class seem to have a touch of senioritis, some manage to look past their symptoms and realize they may miss high school after all.
"I know I'll miss these times because a lot of my friends are younger than me," Wildy said. "I'll miss being around them and I'll also miss having some of the best teachers around."