Hoof Prints announces 2012 staff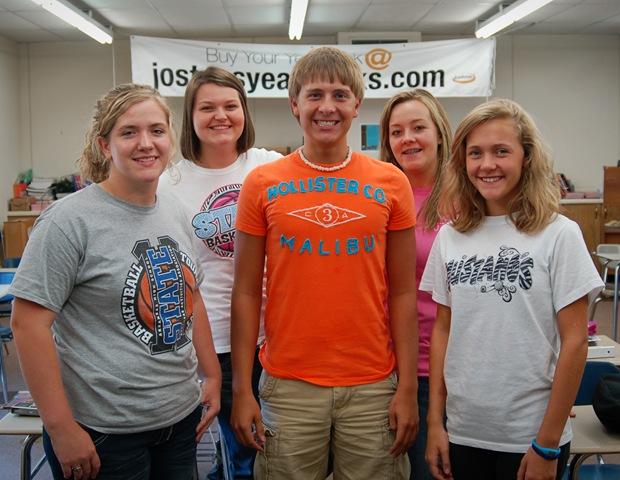 2012 Hoof Prints staff members, from left: Amber Rolland, Morgan Barnes, Clay Turner, Danielle Schooley and Jillian Key.
Amber Rolland, Editor
After winning Writer of the Year at last year's Arkansas Scholastic Press Association convention in her first year on the journalism staff, senior Amber Rolland is hoping to bring home a few more plaques this year for what she has dubbed the Triple Crown: Writer of the Year, Photojournalist of the Year and Newspaper Editor of the Year.
"I want to turn ordinary snapshots, facts and stories into extraordinary photos and articles that really captivate the reader's attention," Amber said. "I want to breathe life and emotion into each yearbook spread I create, each story I write and each photo I take."
Besides setting this lofty goal for herself, as a senior member of the staff and editor of Hoof Prints, Amber hopes that the staff will continue to take their writing to the next level using the new methods and concepts they learned last year, meet deadlines, produce a high-quality yearbook that compels readers to actually read the words on each page and, above all, not still be trying to sell yearbook ads in January. She also hopes to experience a repeat of her defeat of the journalism staff adviser, Mrs. Yates, in a game of Trivial Pursuit, a task not easily accomplished.
When her days of making the staff's rough drafts bleed with her red pen like the editor before her have ended, Amber plans to attend college at a university that is a minimum of four hours away from her hometown of Monette and that also lacks community bathrooms and shared bedrooms. Currently her intended major is finance but she has also recently begun to consider the option of double majoring in finance and agricultural business as well as minoring in journalism.
"I already knew that I enjoyed writing but being on the staff has made me realize how much more I enjoy journalistic writing than other styles," Amber said.
"Journalism has helped me shape my plans for the future. This may sound silly but I now have a set of successive goals I would like to achieve as an adult which bear an odd resemblance to Suze Orman's life: become a financial advisor, become a correspondent to a major news network, get my own financial advice show called Amberica and become one of the many people, including Suze Orman, who are impersonated by Kristen Wiig on Saturday Night Live."
Clay Turner
Responsible.  Trustworthy.  Honest. Dedicated.  These respectable words describe two year journalism staff member Clay Turner.
Clay's first year of journalism obviously wasn't enough for him. He had to come back for more. Even though there is a relaxed atmosphere in the class, journalism is hard work and staff members have lots of responsibilites.
"Journalism has its hard and stressful moments," Clay said. "However, it is always worth the hard work."
Last year Clay learned that his favorite area of journalism is working on the yearbook. Even though he enjoys writing and is even writing a book, he said that he found the creative aspect of the yearbook thrilling.
"In order to effectively create the theme, you must use your creativity," Clay said. "It is challenging, but fun."
This year, Clay hopes to assist in creating "the best yearbook the school has ever seen."
"I hope to floor them with the design, creative theme, and new components," he said.
Although Clay is enthusiastic about  the yearbook, he views Hoof Prints in a different light. The amount of time required to produce quality stories can sometimes be overwhelming, but he said he realizes the paper's important role in keeping the student body informed.
"The newspaper is something we all have to do to pitch in," Clay said.
Therefore while journalism is challenging and sometimes stressful, Clay wouldn't think about giving up his position on the staff. With the help of the other members, he hopes to accomplish his goals set for this year's publications.
Jillian Key
She walks the halls as a junior of Buffalo Island Central. She has blond hair and green eyes.  She reads for a hobby. She is a strong believer in God. She is a member of the cheerleading squad.  She is also a member of the journalism staff and she takes her job very seriously.
Jillian Micah Key has entered her second year of journalism. She joined the journalism staff her tenth grade year. She decided to join because her older sister was a member of the staff.
"She had a lot of fun and was really good at it," Jillian said.
Throughout the school year, Jillian hopes to accomplish many things in journalism. She hopes to write stories that every high school student will want to read.
"I want to write a story that is so hard-hitting it makes people cry and laugh," Jillian said.
She hopes to improve on some concepts she learned last year. She hopes to make her stories more lengthy and interesting.
Jillian hopes that as a staff, all of the members can encourage students to consider joining journalism to ensure the program's continued growth. Although Jillian doesn't plan to pursue a career in journalism, she really enjoys doing it now.
Morgan Barnes
Morgan Barnes, senior, is one of the two new additions to the journalism staff this year and has already been named yearbook editor. After hearing that being on the staff was a lot of fun from fellow journalism classmates and thinking it would be a new experience to actually be involved in the creation of the yearbooks, she signed up.
Morgan is glad to take the responsibility of yearbook editor and join the staff because she is very dedicated and determined to work hard on the yearbook this year. She hopes to produce stories that will catch people's attention and improve her writing skills along the way.
"I think that I will value the yearbook a lot more since I will actually contribute to its making," Morgan said.
After graduation Morgan hopes to finish her basics at ANC and possibly go to ASU on a scholarship. At the moment she is still unsure about her major but is thinking about becoming an English teacher. She hopes that she will be able to improve her creative writing in journalism to prepare her for that.
Danielle Schooley
This time last year she sat at her desk reading the brand new yearbook page by page. She didn't skim through the pages, or glance through the pictures she was in. She took her time, looked at every smiling face and read every story. That's when she first considered being a member of the journalism staff.
This is senior Danielle Schooley's first year to be on the Hoof Prints and Mustang Yearly staff. She had always been very interested in journalism when reading the student publications but had never taken the initiative until this year. Danielle has already taken the leadership role of business manager, proving she is very responsible. Her goal for this year is to have fun while getting the job done and write stories that appeal more to her friends. She can't wait to have her peers read her stories and be impressed.
"I'm kind of scared, honestly," Danielle said.
Danielle is ready to get to work on this year's yearbook and can't wait to see the look on everyone's face when they see the final product.
Tracey Yates, Adviser
Red hair, Disney World, sparkly things (except anything Twilight related), Bono and trivia games. That's journalism adviser Tracey Yates described in 20 words or less.
Anyone who joins the journalism staff quickly learns these things within their first few days, as well as a few standard rules to live by: Disney World is in Florida, not California; Disney Land is in California. Do not insult U2 by asking if it's a band from a cartoon or thinking they're dead. Do not expect to win at any form of game that involves trivia.
Mrs. Yates, who tried out for College Jeopardy in her younger days, may have not have made it, but all of the knowledge she spent hours learning was not lost. The same dedication, determination and discipline she used to study and learn the thousands of trivial facts she has stored in her memory has transferred over to journalism.
Mrs. Yates's motto for journalistic writing comes from student press guru Bobby Hawthorne who taught the writing class she attended at Jostens Adviser University last summer: "Nothing happens until you talk to someone."
Since then she has been stressing the importance of the reporting aspect of journalism and teaching the staff to incorporate new methods of writing.
"Besides increasing readership and sales, I hope we will continue to improve on the concepts we developed last year," Mrs. Yates said. "I also want the staff to re-purpose our old ideas in relevant and exciting ways."
Journalism has been a part of Mrs. Yates's life for over 20 years, stemming from the decision she made on a whim to join the journalism staff during her senior year of high school. It has since become her passion in teaching.
"Journalism education is important because it fosters an interest in journalism," Mrs. Yates said. "Today there is a disregard for journalism because of the blogger-types who are associated with it, but there is value in real journalism."
She pointed out a fairly recent example of the importance of journalism in our society.
"During Hurricane Katrina, the plight of the people wasn't reported by the government," she said. "It was reported by the journalists. If the press didn't tell you, who would?"