Homecoming week activities announced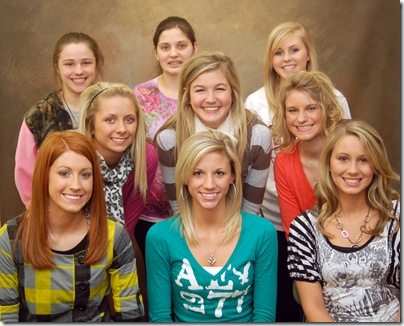 2010 homecoming representatives are from left, front: Kaley Poe, Mallory Crites and Katelyn Pittman, seniors; middle: Jenna Pike, Taylor Owens and Kalee James, juniors; back: Skyler Matheny, Micah Thompson and Chasity Garrett, sophomores.
Homecoming week is Jan. 11-15. As usual, there are dress up days scheduled to boost student enthusiasm about homecoming. This year, students who dress up are encouraged to be present in the student lounge at 11:30 each day if they wished to be considered for best dressed honors.
Monday is Come As You are Day. This popular dress up day is where students are encouraged to dress the way they look when they get out of bed in the morning.
Tuesday is Biggest Fan Day. Students must wear at least two items that symbolize their devotion as a fan to a certain object,person,etc. Name logos are not acceptable.
Wednesday is Fictional Character Day. Students should dress as their favorite fictional character, and they must have at least two items to be counted.
Thursday is Class Color Day. Seniors wear green, juniors wear orange, and sophomores wear purple. Again, at least two items of the color must be worn to qualify. Also homecoming practice is during first period. Following the practice is the talent show/lip sync, periods second through fourth, and the Wacky Olympics periods fifth through eighth.
Friday is School Spirit Day. Also Student Council will decorate for homecoming, and the pep rally will follow at 10:45 a.m.