Homecoming Edition

Tabitha Cobb
"Singing in the talent show for me was an awesome experience. My dream is to one day become a singer. Feeling as if I hide behind walls all the time, I felt as if I had to step out my comfort zone and break my shell and do what I really love to do.  I chose to sing in the talent show to prepare me and also to entertain the crowd. Everyone asked me every day non-stop to enter the talent show and sing 'Hello,' and at the very last minute I decided to face my fear and to sing
"Before I even walked down the stairs and touched the mic, I felt the love from the crowd. I felt supported in every way possible, and I appreciated the cheers and claps I got even though I completely forgot the lyrics to the song. Every great singer screws up sometimes.
"Basketball is my brother's passion and singing is mine, and that Wednesday really felt as if I was a star for the first time. Me never being on stage or in front of a real crowd, I really got the fill of it that day and it was incredible. Even though it wasn't a real performance or an actual event with my name on it, it was amazing to share my voice with BIC."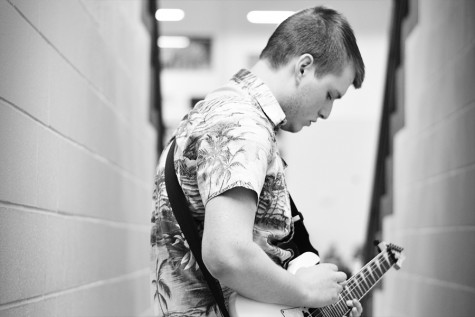 Alex Matheny
"It was called Black Winter Night by a group called Dragon Force. I really like the song and I really like playing it. I've done pretty simple songs the past few years, and since this is my last year, I wanted to do a song that was kind of difficult and showed how fast that I can play or good that I can play. It took me about a week to learn the song. Honestly, it had been awhile since I had played guitar when I decided what song that I wanted to play, so I basically had to relearn the song. I don't feel like I did a good job because I feel like I didn't have enough time to practice."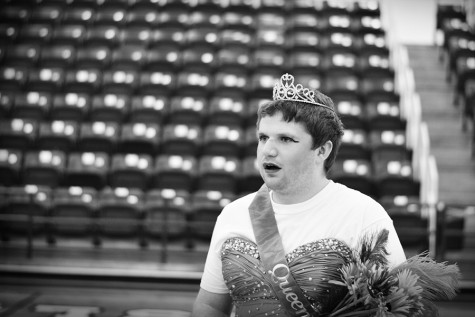 Drake Cobb
"We got the idea to do the pageant because Travon looked like Steve Harvey. It didn't feel too bad to be in the dress, just a little weird. I walked with my hands up because I thought that's how you walked in a pageant. We didn't really have any problems with it. My favorite part about it was almost winning. My least favorite was getting the crown taken away. I don't regret doing it."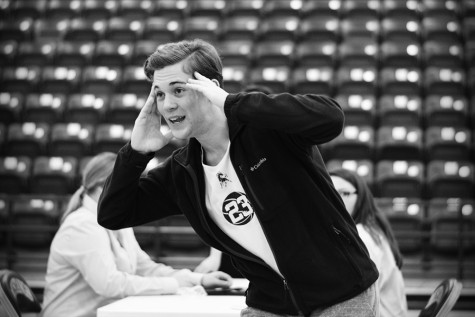 Jamison Key
"I felt at peace coming back home and to be able to have such an impact already."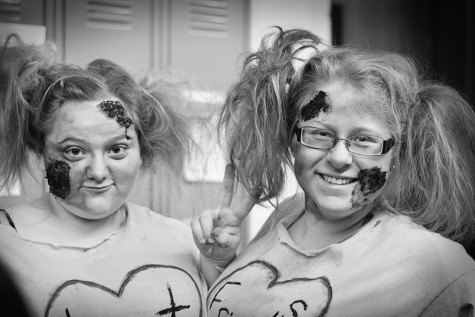 Hannah Turner
"At first my outfit was going to be a pair of jeans that I had from Halloween and a torn up t-shirt. We got to Kaylly's house before church when her aunt asked if we wanted to make some shirts. Her first idea was to put "seniors 2018", but we didn't think that made much sense. Then we started googling best friend zombies, we seen ideas like brides and thriller. When Kaylly said we should just put "best friends". Her aunt painted the anchors on the back of the shirts and Kaylly's said 'I will never' and mine said 'let you sink'. I also cut the shorts and we decided to wear the same boots so we could match completely. The fake blood was so gross. We made it with Black Cherry Koolaid and egg whites. We got up at five that morning to get ready. Kayllys aunt teased my hair and my head still hurts. I love Kaylly and we are absolute best friends so it fit to be zombie besties. We knew we were going to look awesome."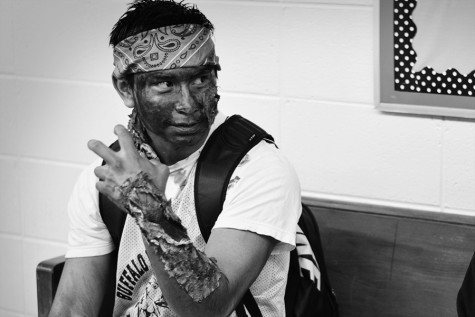 Lexie Ray
Senior Jerry Cazares in his zombie attire for Nightmare Before Homecoming Day. He won first place in dress up competition.
Jerry Cazares
"It took me two hours to dress up and get everything ready. First, I had to get a black washable marker and outline the markings I was going to have to do on my arms. After that I put glue to put the toilet paper on my arms. After it dried for about 15 minutes, I peeled it off. It was kinda hard. After I did that, I went back and put paint over it. I used red and black colors to  make it look like a wound and then I got fake blood to dab around the fake wound. It was pretty hard. I looked it up on YouTube and that really helped a lot with more ideas."