Holiday cheer is in the air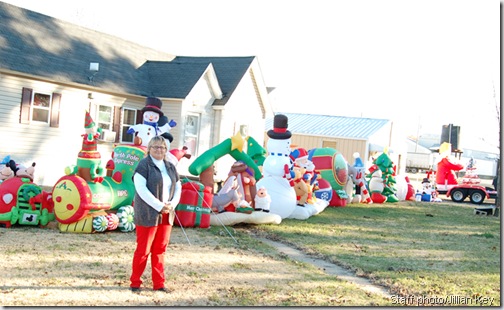 Frequent substitute teacher Kay Staggs stands in her yard amidst all her Christmas inflatables. As of press time, Staggs has a collection of 46 of the decorations.
JILLIAN KEY – Hoof Prints Editor
It all began in 1999. The weather was cold. Santa stood outside of Wal-Mart shaking his bell, asking for money for the Salvation Army. Christmas trees stood tall covered in colorful lights and shiny ornaments. But something else stood out that day to Mrs. Kay Staggs. An inflatable.
On that December day, Mrs. Kay saw a Christmas inflatable yard decoration. When she saw it, she told her husband that's what she wanted for Christmas. That's when her addiction began. It all began with one Santa Claus on a sleigh, carried by one reindeer. That inflatable is now among 46 others. She decided she wanted her collection to continue growing, rather than putting up Christmas lights.
"I told him that's what I wanted and ever since then it has been addicting." said Staggs.
Every day at 3 p.m., visitors can count on all of the inflatables rising steadily from their staked positions in her yard, with Mrs. Kay thoroughly check each and every one of them to make sure they are doing their job. Some of them serenade visitors with music, snow, lights, and even motion.
The addiction wraps around her entire yard, anything ranging from a penguin rising from an igloo to Santa opening the door to his outhouse. Ever since her first one, her grandkids purchase her an inflatable every year for Christmas.
Wal-Mart, K-Mart and E-Bay fuel her addiction. She has spent over $1,500 collectively including repairs and maintenance.
She has several timers set up from 3 p.m. to 9:45 p.m. on weekdays and 8:30 a.m. to 9:45 p.m. on weekends. It isn't unusual at all to see visitors out on her front lawn taking pictures and admiring all of her hard work.
Setting up the blow-ups isn't as simple as it may seem. Beginning with the nativity scene in the very center, Mrs. Kay sets up each individual blow up. She sets them down, plugs them in, stakes them, and goes from there.
One year, she ended up completely in the road due to a blow up engulfing her after a huge gust of wind. Another complication occurred this year when she took her Grinch inflatable out of the storage. She found it needing repairs with a slit through it and she sewed it back up.
"It takes a lot of time and dedication. You gotta love to do it do want to do it." said Staggs.
Her tradition has now become a tradition for others around the area as well. Beginning at Halloween, neighbors call her asking if she will be doing the blow ups again this year. Shortly after Thanksgiving, a wide variety of people call her making sure they are all up.
Several visitors stop by throughout the holiday season including several different church groups with vans full of young children and senior citizens.
Mrs. Kay doesn't have any plans to quit collecting the Christmas inflatables.
"I just love making everyone happy to see them," said Staggs.