GT students tour Clinton Library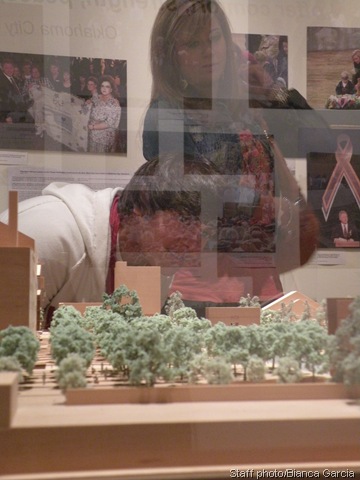 Cesar Marroquin and Madison Finch view a model of the Oklahoma City bombing site.
BIANCA GARCIA – Hoof Prints Staff
The Gifted and Talented students recently made their annual field trip. This year's trip was to the Clinton Library in Little Rock.
The GT students left school during first period on March 12. The students took a three hour bus trip to Little Rock. When they arrived in North Little Rock, they had the option of eating at Red Lobster or Olive Garden. The students then left to take a tour of the Clinton Library.
When the students first arrived at the Library, they each had to go through security. Then they were given a sticker to wear throughout the tour. Then, they were escorted to a small room to watch a video about Bill Clinton. After the video, the students split up into groups and were given a tour guide. The tour guide gave a very detailed and informative tour of the Library.
Also, the Library had two exhibits that the students explored. One exhibit consisted of pins that belonged to the first female secretary of state, Madeline Albright, who served during Clinton's administration. Another exhibit consisted of artifacts and information from the bombing of the Alfred P. Murrah Federal Building in Oklahoma. After the tour, the students loaded the bus and headed home. They arrived home around 5:30 p.m.
Megan Misner
"I really enjoyed having a tour guide. I had been there before without one and didn't learn near as much. He explained things that I wouldn't have taken time to read and he pointed out the small interesting facts that otherwise would have not been mentioned. My favorite thing of course was the pin collection of the first lady that served as secretary of state. Many were intricate and quite unique."
Cesar Marroquin
"The oval office, the daily agenda of his life as president and Mrs. Albright's pin collection was my favorite."
Amber Rolland
"I liked finding out what the president did on my birthday-nothing. He took a jog. Then the paper said, "No Public Schedule." "Happy Thanksgiving!" I also enjoyed seeing the Oval Office."
Katherine Clowers
"My favorite part about the Clinton Library was the pin collection. Also the Oklahoma City bombing was one of President Clintons' first disasters dealt with in office."