Gleeking out over season two premiere of "Glee"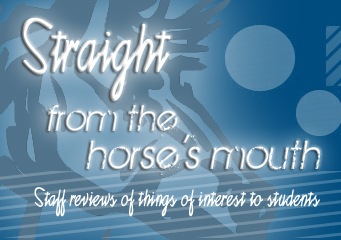 AMBER ROLLAND – Hoof Prints Staff
They say big things come in small packages. Whoever "they" is must have had Charice Pempengco, who plays Sunshine Corazon in this season of Glee, specifically in mind when they said that.
I heard Charice's singing voice for the first time when the second season of Fox's popular musical comedy show Glee premiered last Tuesday. As an enthusiastic Gleek, I had read about Charice's vocal talent, but I figured it was all hype. She certainly proved me wrong during the two songs she sang. She breaks into Lady Gaga's "Telephone" in the girls' bathroom, something I have since watched several times on YouTube despite the utter creepiness displayed by Rachel Berry in the scene because I was so impressed. Of course, the perfect comedic timing of Sue Sylvester didn't hurt the scene either.
Another new guest star that was added this season came in the form of Dot Jones, who plays Coach Beiste, the new football coach at McKinley High. Though she is very masculine and makes ridiculous comments such as, "You're all coffee and no omelet," I couldn't help but to feel sorry for Coach Beiste (and almost cry) when elementary bullying tactics are used against her by Sue Sylvester and, surprisingly, Will Schuester, sponsor of the glee club, New Directions.
Yet another new addition to the cast is Chord Overstreet, who plays Sam, the new quarterback of the football team. After I got over my initial shock that occurred upon seeing that his mouth was exponentially out of proportion to his face, which certainly took a while, I finally got to hear him sing Poison's "Every Rose Has Its Thorn" and Travie McCoy's "Billionaire." The latter of the two was more impressive, possibly because it involved musical accompaniment and backup singers. All in all, Overstreet, who is rumored to be the love interest for male fashionista Kurt Hummel, seems to be a good fit for the show, but was outshone by Charice and Jones.
I expected Rachel Berry to be completely self-absorbed and to worry about the effect certain choices or events would have on her future career as a star. Ryan Murphy, the creator of Glee, usually makes this diva hard to like, but things were taken to a new low on the season premiere. The romance between Rachel Berry and Finn Hudson isn't a plot element I enjoy either. I feel like I'm watching the awkward, emotionally cold scenes from "Twilight" between Robert Pattinson and Kristen Stewart all over again when Finn and Rachel kiss.
Surprisingly, Brittany, a typical dumb blonde cheerleader played by Heather Morris, was big on comic relief during this episode. Her monotone and feigned stupidity allowed her to deliver what would have been bland lines perfectly and steal the scene. She is quickly becoming one of my favorite characters.
This episode began in a manner unlike any previous one, and it made for quite a few laughs. New Directions' rendition of Jay-Z's "Empire State of Mind" was highly enjoyable. I specifically liked the change of scenery and the wardrobe used. Amber Riley, who plays Mercedes, took the part of Alicia Keys and sang it better than the R&B singer herself, which is something I've come to expect from this incredibly talented star. Not too much happened plot-wise, but there were several elements that were certainly setting up for quite a story later in the season. Yet again, Ryan Murphy's knack for picking out a set list that ranged from current chart toppers to Broadway show tunes was displayed in this episode. Really, he could make the cast sing the alphabet, and it would sound amazing.
Though there were some awkward moments, Ryan Murphy's comedic genius in the lines of Sue Sylvester and Brittany and the appearance of new cast members strongly outweighed those small scenes. Glee looks to have another promising season this year, stunt-casting and all. I sure won't be missing it. I give Glee a "yay!"