From making wishes to milestones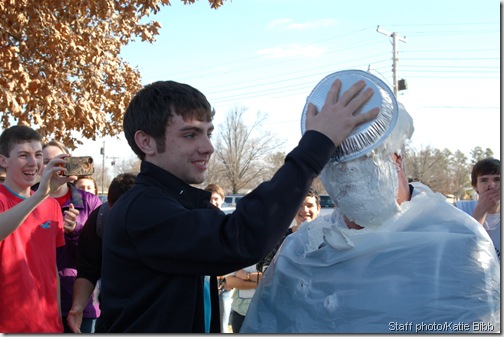 Principal Randy Rose receives a pie in the face from top Make-A-Wish fundraiser Ryan Stuck. All of the high school students and staff gathered in the teachers' parking lot to witness the event.
ASHLYN PACE – Hoof Prints Staff
Stars, chains and roadblocks galore. These things ran through Carol Hamrick's mind. This year
marked the fifteenth year that she has raised money to make someone's wish come true but the first
year that she has doubled that goal. This year marked the most money BIC has ever raised for Make A
Wish, and as a result, two wishes were granted.
"The community was awesome, parents sent a lot of money to donate to the paper chain
fundraiser and then when we had our roadblock they were just unbelievably generous" said Mrs.
Hamrick.
Part of the reason for the overflow of generosity was that it hit home for many people, including
the students.
"My best friend Noah Cook, he's in the hospital so that kind of pushes me harder to do stuff like
that for kids that are in need" said sophomore Ryan Stuck.
Several students and former students, like Noah, have been diagnosed with cancer within the
past few years so the students were more than willing to lend a helping hand.
"The kids felt like they were really taking part in supporting the kids that had gone through
cancer" said Mrs. Hamrick.
The success of this year is a milestone for BIC and there will be more to come.
"We hope to be as successful next year but the most important thing is getting the students
involved in such a worthy cause" said Mrs. Hamrick.