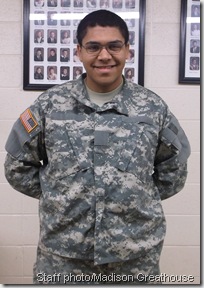 Codey Pate
MADISON GREATHOUSE – Hoof Prints Staff
From crying when told that Santa wasn't real to enlisting in the Army, Codey Pate is the perfect example of "growing up."
Codey Pate is your typical senior high student. He enjoys playing video games, spending time with his family, listening to Drake, and even beatboxing/singing. But there's a little more to him than meets the eye.
"I'm already the type of person I want to become," said Codey when asked what type of person he wants to become. He explained that he is proud of who he is, he just wants to be more open and talk to more people.
This is where his love for helping people comes in. Codey is a people person. He loves meeting new people. "I've never met a stranger," said Codey. This is where his desire to help people comes from.
He explained that he wants to become a psychiatrist. "I want to help people with suicidal problems and depression. I want to tell people that there is more to life than taking your own life. There are always perks to life," said Codey.
Codey's main priority, even above becoming a psychiatrist,is serving his country. He decided he wanted to enlist in the Army, since most of his family is in the Military. "I felt obligated to do it," said Codey. His friend, Drake, told him about it and at first he wasn't sure it was right for him. After about a month of thinking, Codey decided to enlist for eight years. Six in the Army and two in the reserves, after which he plans to enlist again.
The next step was to make it official. Codey traveled to Memphis to swear in. This is a process that all members,or future members, have to go through where you repeat after the officer, basically saying you promise to protect.
He enlisted in the front line infantry. Infantry is face-to-face combat. "Killing people is not something I'd like to do, but in the army it's a whole different ball game. If I have to do it, I will," said Codey.
"Being in the Army is a huge responsibility and is a big change for me, but it's also something that I think I can handle," said Codey.