Forrest buckles up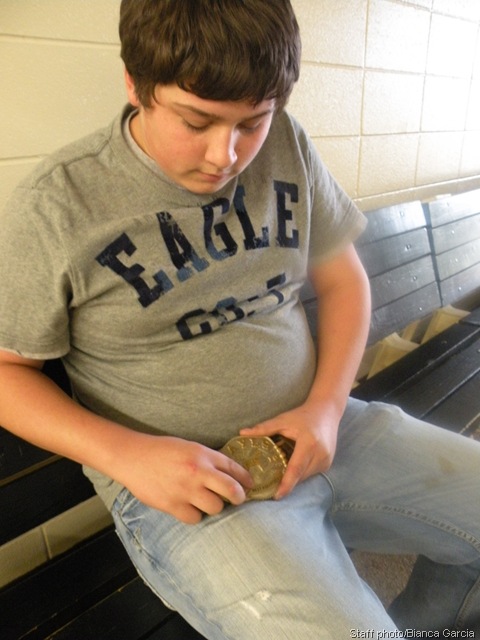 Forrest Robertson displays the buckle he won at the recent National FFA Convention.
BIANCA GARCIA – Hoof Prints Staff
Dribble. Dribble. Dribble. Shoes skid across the court. The aroma of body odor fills the gym. Just last year, this was Forrest's surroundings. Now they changed into goats bleating, taking care of animals and the smell of manure.
Forrest Robertson was a dedicated basketball player. It was his main hobby until he did a favor for a friend. Last year while in agri, he was talking with a friend.  His friend asked if Forrest could show his goat for him since he was busy, so Forrest said yes. Little did Forrest know that this would change his routine drastically.
Forrest really enjoyed showing goats and wanted to take it up as a hobby.  "I really liked it, because it was pretty fun and you get to take care of animals and everything," Forrest said.
Buying a goat for competitions would be time consuming. He was torn between two decisions, either to play basketball or to show goats. After deliberating, Forrest decided to start a new hobby and show goats. Even though Forrest was happy with his decision, his family didn't feel the same. It took time for them to warm up to the change.
To start off, Forrest purchased many animals. He has six animals, one of them being a lamb and another one being a calf. Throughout this process Forrest has spent a couple thousand dollars. Some of the money comes from his pocket and the rest comes from his parents and competitions he has won. Forrest spends at least three hours a week working and feeding the animals. He doesn't even catch a break on the weekends or summers, but he gets some help from Mr. Bruce Fires.
"Mr. Fires has been pretty helpful," Forrest said. "He shows me how to clip and worm the animals. He tells me the best kind of food with the best protein that is good for my animals," Forrest said.
Recently Forrest attended the National Future Farmers of America Convention in Indianapolis with Caleb Miller and Mr. Fires.  During the convention, they attended sessions where they listened to speakers talk about agriculture. They also mingled with people who had booths set up about agriculture and colleges.
At the convention that included at least 58,000 students, Forrest won a prestigious award. He was awarded a belt buckle from the Northeast Youth Live Stock Association for Showman of the Year. He received this award because of the shows he has competed in the past and how well he did in them.
Forrest's decision to focus on his animals has paid off. He speaks very highly of the agriculture department at BIC.