For seniors, quality isn't always quantity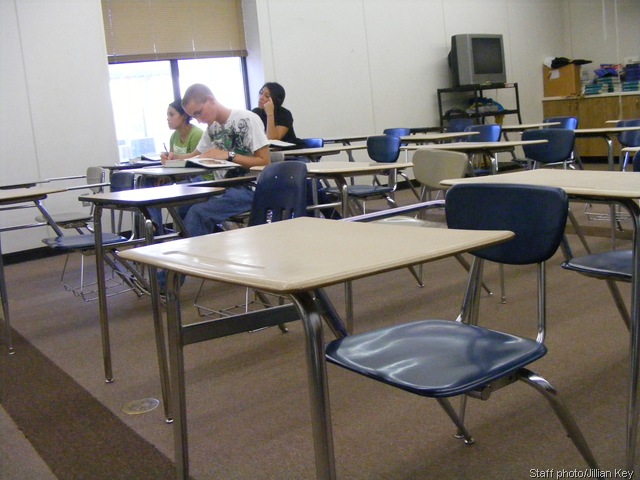 Brenda Cordero, Amy Renteria and Timothy Neal sit amongst the empty desks in Mrs. Yates's first period English class.
JILLIAN KEY – Hoof Prints Staff
There is an old saying, "there is strength in numbers." However, that is not the case with the 2010-2011 senior class. This close knit class contains only 36 students, while the juniors and sophomores average around 70 students.
According to senior Jenna Pike the unexpected and recent death of a classmate showed just how close they really are. About 90 percent of the 2010-2011 senior class attended the visitation of Cody Michener.
A disadvantage of this would be the very small class sizes. Every year, Mrs. Yates has two senior English classes. This year she still has two, but they are no where close to full. One class contains seven, while the other has four. Combining these two classes would still not be the equivalent to a regular senior English class from the past.
Many seniors said the only drawback to the small size takes place during homecoming week at the pep rally. "Its hard to yell the loudest when your class has 30, and they have 70," Jenna Pike, senior, said. Jenna said she preferred being in a small class "I love it," she said. "It's easier to know everybody. In our class we're pretty much all the same. And it's a lot easier to get out of the parking lot at lunch!"
Adam Tompkins' favorite memory of the senior class was when classmates Drew Berry, Drey Crabtree, and Brent Ray dressed up as cheerleaders during the talent show. "I almost fell out on the floor laughing! I was not expecting cheerleaders. Cheerleaders shouldn't have long legs like that!"