Final day at USSYP emotional for Qualls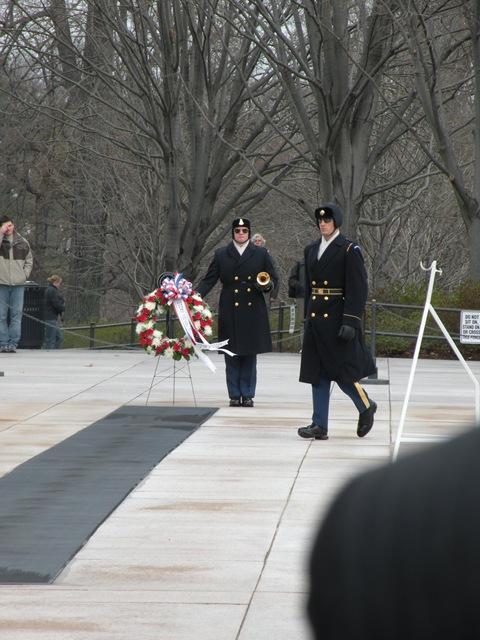 The ceremony of the changing of the guard at the Tomb of the Unknowns at Arlington National Cemetery. On most days, each guard's shift lasts an hour. During the summer though, the shift lasts only half an hour.
Adviser's note – Colby Qualls, Hoof Prints editor, was selected as one of Arkansas's two delegates to the U.S. Senate Youth Program in Washington, D.C. From March 5-12, he will be blogging about his experience and it will be posted here.
March 11 and 12, 2011
COLBY QUALLS – Hoof Prints Editor
I must admit that this blog entry was not typed the day it happened like my previous entries. One, I was tired of the constant battle with the Internet connection in D.C. Two, I really had little time on Friday to create an entry. Three, even if I had time, I was so incoherent from sleep deprivation that it wouldn't make any sense. I felt it was only fair to let you know that this entry is a reflection of what happened, and I hope ultimately a tribute to the week in its entirety. I have decided to lump the last two days together since they seemed to run into one for me. With this being said, I hope you take the time to experience the ending of the week of a lifetime.
Friday had snuck up on me. Since my routine during Washington Week was obviously different than mine at home, I had trouble understanding the passage of time. I was more tired than usual. I had missed my bed, my dark blue snuggie, my box fan that I leave on all night. I slept well enough, but not in the same way as I do at home. I continued with the routine of wearing my last suit I had packed for the trip. The whole suit attire was getting a little old and uncomfortable. I told myself just to deal with it for this last day.
At breakfast we listened to one of my favorite speakers of the entire week, the CEO of C-SPAN, Brian Lamb. You may believe that Mr. Lamb would be an uninteresting speaker. Most don't choose C-SPAN over such competing shows as Jersey Shore. What is more interesting to watch, a senator addressing a national issue or Snooki with all of her antics? I will let you answer that question even though I am afraid most Americans already have.
Mr. Lamb certainly was the most interactive of the speakers though. This breakfast was more of a forum, a discussion, a conversation. The other events we simply listened and were able to prompt the speaker to continue in a certain direction by our questions. With him it was more of a give and take. He would ask us to reflect on our week, including the good and the bad. I would have raised my hand to make my own commentary, but after seeing him question some of the other delegates' statements like a true journalist at work, I chickened out. I deeply admire Mr. Lamb for his commitment to journalism and the media. I only hope one that I can make a difference in such a way that he has.
Next on the agenda we visited the Arlington National Cemetery. As you would imagine, it was the most somber event of the week. The loud buzz that accompanied our group hushed for this destination. All were filled with reverence and respect. It truly is a place that allows a person to understand the ultimate price men and women have paid for our country. It made me feel guilty actually. Sometimes I can be so unappreciative of my country. I seem to forget that freedom is not free. As Ronald Reagan put it, "Freedom is never more than one generation away from extinction. We didn't pass it to our children in the bloodstream. It must be fought for, protected, and handed on for them to do the same."
These men and women valued our freedom so much that they willing sacrificed their lives to preserve it. This brings my mind back to the Westboro Baptist Church issue. I truly can't understand how anyone can believe that protesting a fallen soldier's funeral is the work of God. Yet, these soldiers fight even for the right of these misguided people to protest, and peaceably assemble, at their very funerals.
Sorry for going off track a little. While there, we visited the Tomb of the Unknowns, where their names are unbeknownst to all except God. Some of us also took the opportunity to visit the graves of the Kennedys. It's hard to believe that the Lion from Massachusetts, Ted Kennedy, truly is gone. The actual site and area of their respective graves though are beautiful.
Before finally leaving Arlington, we watched the changing of the guard by the sentinels. It is such an exact, meticulous process. The guard must take 21 steps down the mat. Each time he must wait 21 seconds before changing directions. And so on. In case you haven't got the drift, 21 is the magic number of this process. It symbolizes the 21-gun salute. I am sorry that I did not describe the process of it in detail. I just know that I have so many other things to mention. I would suggest though researching more about the changing of the guard.
After Arlington came our stop at the Pentagon. One thing most people don't realize is that it has some of the best photos and artwork adorning its walls. Another pleasant surprise of the trip. The size of the Pentagon is also astounding. The whole Capitol would fit neatly in one of the courtyards. That is no exaggeration, that is fact. We were able to tour a portion of the facilities, even though I am sure it was only a minute fragment of the total area. We did stand in the spot though where an airplane had crashed only a few years ago. Only a hundred or so people died from this attack. We even were able to see the memorial present at the same spot. I did skip what he did first though. After eating a lunch that was provided, which believe it or not, ended up breaking the nut free zone, we listened to two speakers. First, it was the Deputy Secretary of Defense. Then, it was Major General Joseph Anderson. After listening to both men, I felt comforted knowing our defense is in such capable hands.
We proceeded back to the Mayflower to hear from the Senior Vice President for Strategy and Innovation of Habitat for Humanity International, Dave McMurtry. I believe the nonprofit organization does a lot of good. Listening to him speak though was only okay. He seemed to try too hard to impress the audience. He would constantly use technical jargon that not even us digital natives could comprehend, and he seemed to emphasize some of his accomplishments in almost a flaunting way. Regardless, he does sincerely seem like he wants to change the world. I also learned the difference between a rhino and cow. A rhino is someone who is willing to take charge, who is fearless, who is assertive, and who is unstoppable. A cow is someone who likes to stick with the herd, who is fine with chewing grass instead of actually pursuing their interests. I promise the way he presented the analogy was much better than my recreation. It did make me wonder though. Sometimes I feel I am more of a cow than I am a rhino.
We then had little time to prepare for our final dinner together as a family. It was a memorable and spectacular event. All knew that the time was limited, so each was sure to make the best of the situation. We listened to Mr. Stephen Cox begin the ceremony one last time. "Ladies and gentlemen, may I have your attention please." We heard the United States Air Force Brass Quintet perform with the Joint Armed Forces Color Guard. We laughed, debated, and broke bread together. We watched all of our military mentors be recognized one last time as they performed a flag folding ceremony.
Each of us ended up receiving our own flag that was specifically flown above the Capitol for us. That was a great gift. Then came the student farewell speeches from our two selected delegates. Both Meg, from New Hampshire, and Scotie, from Oklahoma, busted out from nowhere singing "The Time." It was so representative of our week. Their continual speeches were amazing. It touched on all of the high points, the inside jokes, and a reflection of our week has a whole. And of course, we applauded for the lovely Mrs. Jeannie Irish one last time. They also spoke about our future, our place, and our hope for a better tomorrow. I remember thinking that it was certainly a right decision having these two delegates represent us. Our dinner ended with a slide show created by our fantastic photographer Jakub Mosur. The photos looked so professional, and it helped us reminiscence about our entire trip. It was hard to believe all of this had happened in just one week. Yet it was starting to end.
The party moved downstairs to the dance which would last til midnight. We fist pumped and broke it down to some of our anthems of the week including "Fireworks," "The Time," and "Don't Stop Believing." It is a sight to see some of the leaders of tomorrow let loose and have a good time. I wonder if our U.S. Senators have such parties together. Then again, they would actually have to be civil towards one another first.
I went to my room a little after midnight. Delegates were allowed to stay in that room til about 3 if they wanted to. I was feeling a little tired and needed some time to unwind. My plane was scheduled to leave that morning a little after six. I was supposed to be checked out of my room before 3. My bus would leave for the airport a little after 4. I decided that I would just stay up all night and sleep on the plane, partly because I was afraid I wouldn't be able to get myself up to make the bus. The details of this morning are sort of fuzzy from being so sleepy. I remember saying my final farewell to the other delegates. I remember being escorted to my bus. I remember waiting in the airport for our plane with the two Mississippi delegates. I remember falling asleep before takeoff. I didn't wake up until I was jolted awake by the rocky landing.
As I stretched, I made my way off the plane. Now I was so close to home. While making my way through the airport, I could see both of my parents waiting for me. It reminded me how much I had missed home, family, and friends. I could tell that both of my parents were ready for me to be back as well. Unfortunately, I would not actually make it to my bed until around 11 that night. I raced to the regional quiz bowl tournament in Marmaduke to compete. After that, I spent time with my family relaying the details of my trip. There was a lot to catch up on.
While typing this final entry of the blog, I am reminded of all of the great times I had during this week. I couldn't have ever dreamed of such an occurrence ever happening in my lifetime. Such great speakers, such wonderful places, such great friends. I miss D.C. Even though I know that even when I return it won't exactly be the same. To be honest, I am undergoing another culture shock. I ate with only one set of silverware. I had to open the door for myself. I wore casual clothing. I entered doors without there being a metal detector present. My normal life now seems foreign again. Part of me hopes that when I awake I will find myself back in the Mayflower. But I know that the time of that trip is up.
I shouldn't be greedy because I know that such a blessing, the actual trip, is only bestowed on a select few. I must continue on finishing my work in Monette, Arkansas before I embark on another journey after graduation. Who knows? It is very possible that I will meet my fellow delegates in public service one day. I hope for my sake, and the sake of this great nation, that such a thing will happen. I would like to thank everyone who has used their time to follow my journey. I am flattered beyond measure.
I will end this series of blogs with a quote I heard this week. "You are not here to be a part of history, but to make history."