FCCLA raises money for breast cancer research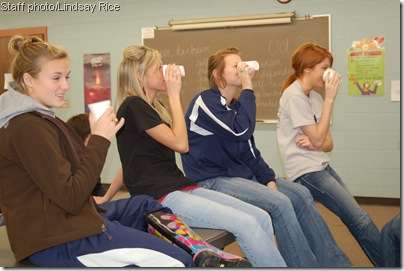 Ashley Jines, Mallory Crites, Holly Dempsey and Kaley Poe enjoy a glass of pink lemonade in FACS class.
LINDSAY RICE – Hoof Prints Staff
The Family Career and Community Leaders of America (FCCLA) celebrated Breast Cancer Awareness by having "Think Pink" last week. It sold pink lemondae and pink ribbons for 50 cents in Mrs. Buck's classroom. The money raised will benefit the Susan G. Komen for the Cure organization.
The Susan G. Komen for the Cure foundation is an organization supporting breast cancer research. According to the organization's website, since its beginning in 1982, Komen has raised over 1.3 billion dollars for research, education and health services. Today, it is one of the largest breast cancer charities in the world. It is recognized as the leading force in the fight agaist breast cancer.
According to the website, Susan G. Komen for the Cure was started by Nancy G. Brinker. Brinker promised her dying sister, Susan G. Komen, she would do everything in her power to end breast cancer.
Andrea Buck, FCCLA sponsor, said, "We decided to adopt "Think Pink" this year because all the schools in district three of the state had adopted it. Everyone knows someone that has been affected by breast cancer. We wanted to raise enough money to pay for one mammogram." The Susan G. Komen for the Cure organization not only researches breast cancer, it help pays for some women's mammograms. Mammograms cost $150 each.
The students seemed to love being able to drink lemonade in class. Mrs. Buck estimated that at least one person out of each of her classes participated in the fundraiser at least once.
Even with many cups and pink ribbons sold, FCCLA missed the $150 goal by a few dollars, but  they were very pleased with the money they did make, according to Mrs. Buck.