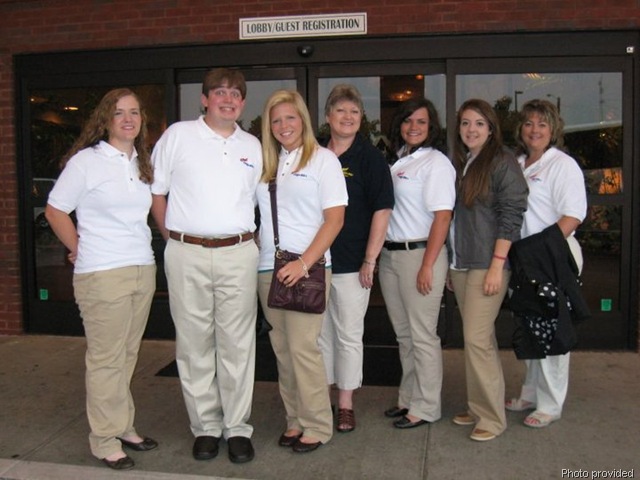 Amber Rolland, Colby Qualls, Megan Misner and Mrs. Monda Hutchison attended FBLA Nationals in Nashville this past summer.
BIANCA GARCIA – Hoof Prints Staff
Suitcases packed and ready to go. Amber, Megan and Colby were anxious to take on the four hour trip ahead of them. A missed call. A text from Mrs. Monda. The trip is now pushed back an hour or two later. Lucky for them, not even this puts a damper on their spirits for what is to come.
They were on the road to Nashville, Tenn., to attend the FBLA National Conference. Amber Rolland qualified by placing second in parliamentary procedures at state level. Colby Qualls and Megan Misner were able to attend because they were a part of the winning team of Battle of the Chapters.
The conference lasted a week. Its theme was "Simply the Best." Amber and Megan stayed with two girls from Mena, Arkansas. "It was a good experience meeting new people," Megan said. "At the FBLA national conference you see thousands of people, but you usually never get to know more than 15. Having the privilige to stay in a room with two strangers allows you to make great friends."
Since Megan and Colby did not compete, they all were part of the Institute for Leaders. IFL is a program that teaches specific leadership skills in specific areas of business. For example, Amber, Megan and Colby chose to be in the finance major track. IFL was on Tuesday and Wednesday.
Friday, Amber competed in her competition. "I took regional's seriously and not so much state, but I studied quite a bit for nationals," Amber said.  "If I would have know that I could have won $1,000, I would have studied more."
Awards were given out Saturday and Amber did not make the top ten. She thought she did well, considering there were at least 100 people in her competition.
Attending Nationals was definitely costly. Although, the school paid for their trip, they still have to pay them back. Now the FBLA members are working at reunions and other events to pay for this trip. Also they are going to have workshops on computer and cell phone skills.
"I truly learned the concept of money on a personal level," Colby said. "I'm still learning too. The cost of the trip makes us explore creative ways to raise funds."