Everything but socks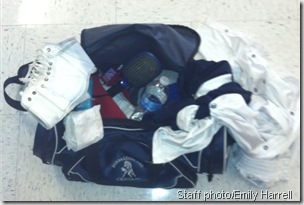 McKuin's bag is filled with everything necessary for a game or practice, plus a few surprises.
(Editor's note-Hoof Prints staff recently checked out the purses, lockers and cars of students to see how the contents of these spaces give insight to the owners)
EMILY HARRELL – Hoof Prints Staff
You might think you know what a gym bag contains but the contents of a basketball bag might surprise you. Senior Taylor McKuin is a loud, driven, confident, and determined person.  She is always full of energy and is incredibly supportive towards her team.  She is also known on the Sr. High girls basketball team for the variety of stuff in her ball bag.
"I'll usually throw trash in there because I don't feel like getting up and throwing stuff away," Taylor said. "So I have trash in there from like last year."
Many times the girls are fed before an away game but sometimes that's not the case. They aren't told if they get food or not until they leave on the bus, so the girls always come prepared with a snack.
"If I don't eat it, it just ends up thrown in my bag." Taylor said.
All that food doesn't go to waste though.  Taylor always lets her teammates steal the food she has left in her bag.
"She feeds the entire basketball team breakfast in the mornings from food she's thrown in her bag," junior Madison Greathouse said.
Aside from the regular gym clothes, uniforms, compression shorts, shoes, and knee pads, many players have something they consider to be lucky. While they might not actually need it to win, many may feel that they do.Taylor started wearing regular glasses with a band in the 9th grade, but now she wears goggles.
"I don't really have anything lucky, but I always have my goggles." said Taylor.
Taylor's bag may seem like it has everything you might possibly need at practice, a game, or on a bus ride, but that's not true.
"I don't really take much socks with me. That's like the one last thing that everyone thinks of." said Taylor.