Community Rebuilds After Deadly Tornado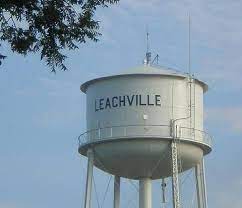 Nearly a year ago, on the night of December 10th, 2021, an outbreak of tornadoes wreaked havoc across nine states. Included in this outbreak were the cities of Monette and Leachville, both of which received thousands of dollars in property damage and caused a multitude of health problems for others.
Though these small Buffalo Island communities were devastated by the natural disaster, the towns and families have come a long way in rebuilding what was lost on that infamous night. Multiple companies and residents have begun rebuilding in both towns, the Monette Manor nursing home included. The building that was once home to many was essentially demolished in the storm, but  is making its comeback. After a groundbreaking ceremony for the new facility was held in July, a great deal of progress has been made to hopefully move the residents back into their rightful home.
Senior Cason Rose  said seeing the nursing home rebuild instead of choosing to close can offer a great deal of inspiration to the community. "Construction has  been pushed back a lot, but they have the foundation down and they are making great progress on the building. Every time I drive by there's more done, and that's a great thing for our town," said Rose.
Among the  local businesses hit by the tornado was Big Butts BBQ, a beloved restaurant among the people of Leachville and many other local towns. Since its destruction in the tornado, the restaurant has been operating out of a food truck with plans to construct a new building. " I really hope Big Butts is able to rebuild. My family used to go there and eat on Sundays and I'm very sad about it. It was a statement piece to my childhood memories. My grandpa and I used to get fake tattoos from their coin slot machines after church service," said Emery Green.
Of course businesses were not the only buildings destroyed in the storm.  Many local families were greatly affected by the storm as well, losing their home and nearly all of their possessions. "On the night of the tornado, our family had severe damage to our house, and it caused the house to shift and be unstable. We couldn't live there until it was fixed. We have been able to fix our house and make additions to it, and we moved into our new home in August. We had to live with my sister for about six months, which was a big disruption for everyone, but we're getting back to normal," said Sophomore Brooke Wattigney.
 "During the tornado, our whole fence was destroyed. We had to replace our fence and doors. We lost some items from our backyard, including our trampoline and some trees," said Junior Alivia Waltrip.
The events from the December 10th tornado greatly affected our community in more ways than one. The recovery efforts have been a source of inspiration for all, and in remembrance of those we lost, we push forward.