Classroom Saga learning lessons on the stage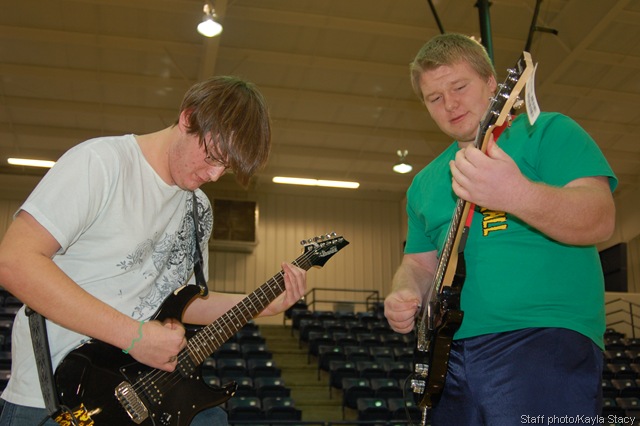 Kevin Lambert and Mark Stone entertain the audience during this week's Homecoming talent show.
CLAY TURNER – Hoof Prints Staff
A year ago a group of boys were sitting around looking at each other thinking, "What could we name it?" They sat around some more and began writing down a bunch of songs that had appealed to them thinking that possibly one of them could be its name. Their list was soon reduced to only a few names. After eliminating the others, they settled on one, Classroom Saga.
Mark Stone was admitted into Classroom Saga two months ago when he found out they were looking for a guitarist. He now feels that joining was one of the best choices he had made after the years of practicing playing a guitar.
The band itself now consists of Mark, Kevin Lambert, Derrick Moore, Isaac Ibanez, Kolbi Platz, and their roadie, Alex Sexton.
"He (Alex) does what we tell him," Mark said. "He's kind of like a manager.".
Some of the songs they have produced include "Just Hangin' Out," "Save You," "Glass Houses and Duct Tape," a band favorite, and "Lie to Me," a song dedicated to friend, Cody Michener, who Mark said had written two lines of the song before passing away.
The band has many influences to their music including Metallica, Trivium, Trapt, Bullet for my Valentine, Five Finger Death Punch, and Foo Fighters. But Kevin said that they not only play rock, but that they try playing songs from a variety of genres so that they could appeal to all age groups.
"We want people to like at least one song," he said.
The band practices every week at Kevin's house Monday, Wednesday, and Friday and occasionally on weekends.
"It is a very strict schedule," Mark said.
The group has just now been given the chance to record their first album.  Mark also explained that they have also been given the chance to go on a state-wide tour with one of the bands that Derrick was previously affiliated with in Illinois before moving to Arkansas. Mark chuckles as he relates that the band that they are supposed to go on tour with made it big right after Derrick left. They are said to go on tour with them right after school ends.
Until they make it big, Classroom Saga just hopes to have a lot of fun in their music and enjoy the time they are making memories with each other. Mark recalled a time when they were all recording a song for YouTube and a drumstick flew through the air and hit him square in the forehead.
"They didn't use it in the video, thank goodness," he said.