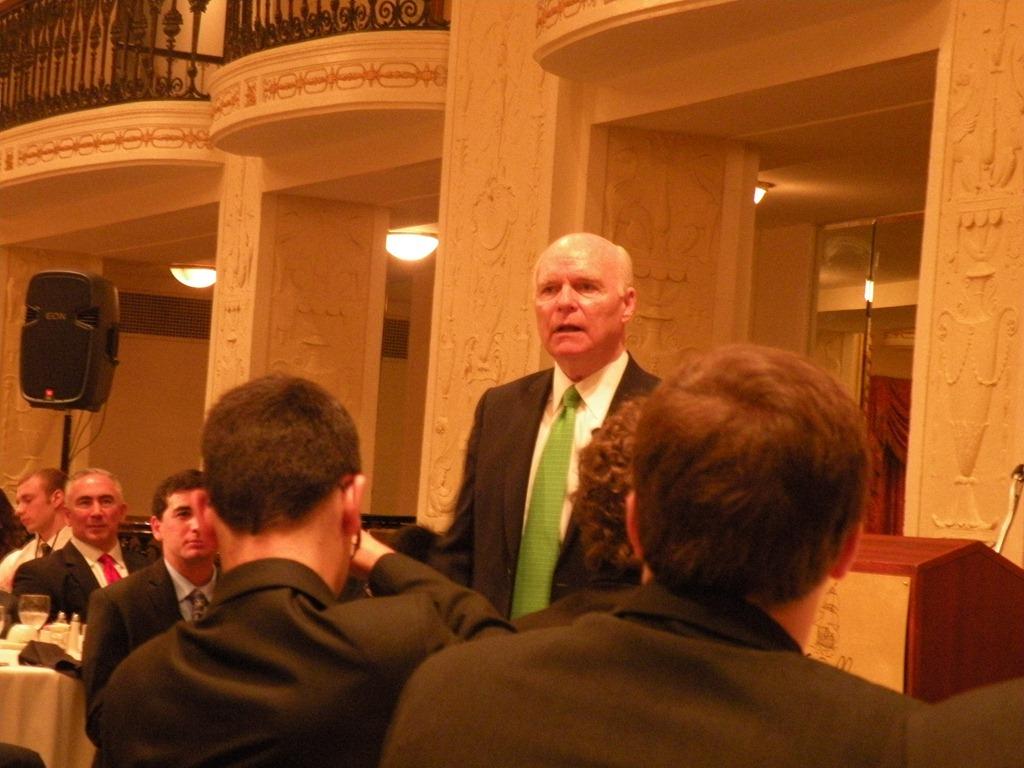 CEO of CSPAN.  One of his biggest problems with news now of days is that every major station will devote hours to Charlie Sheen, but will only use 10 minutes to describe the earthquake that hit Japan recently.
Adviser's note – Colby Qualls, Hoof Prints editor, was selected as one of Arkansas's two delegates to the U.S. Senate Youth Program in Washington, D.C. From March 5-12, he will be blogging about his experience and it will be posted here.
March 10, 2011
COLBY QUALLS – Hoof Prints Editor
It seems my prediction/assumption was correct. This morning was awful. I went to bed a little before midnight and woke up at 5. Normally I could deal with losing a little sleep one night, but this trip takes so much energy out of me. Don't get me wrong, this week has been so close to perfection, but the continual, full agenda wears down on us. I seriously had little to no drive to even move. As I reflect on the day, I don't even remember details about breakfast. I am sure I was a pleasant to converse with this morning. There was a reason for this madness though. It all dealt with visiting the CIA headquarters.
I am not sure what exactly I imagined the headquarters to look like. What I saw though was not what I had in mind. I guess I should have trusted what most movies portrayed the headquarters to look like. It was basically a very large building with lots of windows. It just didn't stand out as this pinnacle of technology and defense. I would bet that they only have this appearance as a front. Another slight disappointment was that we only toured one small auditorium of the headquarters. I naively thought we would be invited for this grand tour of the facilities. Not quite.
While we sat in the auditorium, we listened to various speakers about the CIA in general. I find the whole concept of the CIA interesting, and even their topics they chose to discuss, but the morning fog had not lifted from my mind. It took all my will power to keep from nodding off in front of everyone. Needless to say, my concentration lacked on certain parts of the speech. I learned later though that I wasn't the only one with this problem. It turns out that even one of our primary leaders took a little nap during the proceedings.
We were able to have a panel of the four specific department heads discuss each department and its duties. I am fairly certain that the names they provided were fake. I also am under the impression that each of these four people were in disguise. It's a hunch really. I will explain why I believe that later on in this blog. Anyway, learning about how our country must gather intelligence of other global powers is a side of our government that isn't emphasized. Primarily because it is all confidential. Oh, we even were graced by the CIA director's, Leon Panetta, presence for a short time. He was on his way to meet with President Obama.
Afterwards, they gave us a little class on the importance of disguise in the CIA. It was informative, entertaining, and an opportunity to wake us up. Three members gave demonstrations of how they can change identities quickly and effectively. Obviously it was a minor scale demonstration. They couldn't show us all of their resources or how they can truly utilize them. When delegates asked them questions, we could tell that it seemed that they glossed over some of their answers. I am not sure if I would prefer a glossed over answer or simply hearing that it is confidential. One of the speakers actually stayed in her disguise and would not reveal her real identity. It turns out she is actually under cover. Now, if this agent/employee could not reveal herself to us, I have a hard time believing the heads of the departments really did. I wouldn't be surprised even slightly if they were just cleverly disguised.
Our next trip was a visit to the Library of Congress. Our only reason to visit there was to eat lunch and listen to Mary Levkoff, a curator of the National Gallery of Art. I will be frank, I am not enamored with art. At least not at the moment. I haven't had much of a background in art, so it's more difficult for me to relate. Oddly enough though, I really enjoyed hearing her answer questions. I would say she represented a true American well.
One of the delegates had asked her what she thought about The National Gallery of Art possibly receiving less federal funding. I naturally assumed she would begin some rant about not appreciating the value of art. Instead, she began by saying that she believes art is a luxury, not a necessity. She continued with saying that if we are tight on funds, they need to be distributed for cancer research or the defense of our nation. I was stunned. She continued to amaze me though. She said that one of two things will happen with her specifically. Either her pay will be frozen or she will have to take a 10 percent cut in pay. She claims that it doesn't bother her, and that it shouldn't bother her. She understands the tough situation that our 435 representatives must make. That deserved a standing ovation in itself. Isn't that what being an American is supposed to be about? Making sacrifices for others?
I am afraid that most Americans have this feeling of entitlement. It is almost as if we do not receive everything we want on a silver platter, then we believe our nation has failed. As Leon Panetta put it though, "It is not what our country owes us, but what we owe our country." It also meant so much more knowing how much she loved art. You could tell by her eyes and demeanor she truly values art. And she was still willing to serve in less than desirable circumstances. I think many Americans could take a lesson from her.
The next stop was The National Gallery of Art. We were broken up and given guided tours. I thought the art and style of this gallery was more impressive than the Smithsonian, but we had such a limited amount of time. Needless to say, we were not there long at all. Maybe one day I will be to take a more leisurely stroll to admire the artwork.
When we returned to our hotel, we immediately gathered in a dining room setting to listen to the Secretary of Education, Arne Duncan. Due to his busy schedule, that event was brief. This event had the largest number of delegates this week wanting to ask questions. I wonder why? It may be because our education system is in crisis mode. I just learned that our nation has a 25 percent dropout rate. That is a sad, and slightly scary, thought. Secretary Duncan believes we are on the road to progress, and we have already achieved a lot more recently.
Two factions of the delegates had separate views of the man. Some really disliked him, but others loved him and thought schools should follow his every suggestion. Really the differences of opinion all revolve around how much power the federal government should have in the education system. Those who dislike him believe it is the state's responsibility on education. They also see the federal government as meddling. Those who like him believe the federal government should be more active, and should have standards of education within our nation to be more universal and similar.
Secretary Duncan also addressed the Wisconsin bargaining issue. He claims that he feels that teacher unions should be working for the best interest of the students. He doesn't condone Walker's legislation taking away collective bargaining rights though. I am curious to watch more of this unfold now specifically since the bill did pass limiting union rights. I only hope that we don't lose sight of why we are fighting,  for the students.
Our final speaker of the night was the Ambassador of Turkey to the United States, Ambassador Namik Tan. He taught me a lot about Turkey. Before this interview, I knew next to nothing about Turkey. Now I know though. The questions though were the toughest I have heard all week. The delegates really drilled him. I also felt the ambassador had troubles answering some of them. He denounced any accusations or claims that Turkey has any nuclear arms whatsoever. He seemed slightly defensive about this. He also did not like a question directed about seven free press reporters being arrested. It was certainly an interesting discussion.
I do know that Turkey is becoming a global power. I also know they are one of the few democracies in the Middle East. I hope our nations can remain close allies since they will be key later in our global affairs. I do disagree with some of their policies and decisions though. Then again, we won't ever find a country that always sides with our position. I think that can be a good thing sometimes.
At the moment, I am sprawled out on my bed in my pajamas. I am starting to miss home more. I am also ready to recharge my batteries. In order to do that, I need to sleep in my bed and spend quality time with me, myself, and I. Having a roommate and being around these wonderful people are nice, but I am still a semi-solitary person. I will be home soon enough though.
Tomorrow is my final full day. It will be a bitter sweet day. I do know that I will get almost no sleep. Our final dance is from nine to midnight. I will then need to pack a majority of my stuff. Also, my plane is scheduled to leave at six in the morning on Saturday. General rule of thumb is you need to be at the airport about an hour before it takes off. I also will have to check out of the hotel too. I am not an expert at math, but the hours of sleep seem to be dividing at an alarming rate. That's why I plan to sleep early tonight.