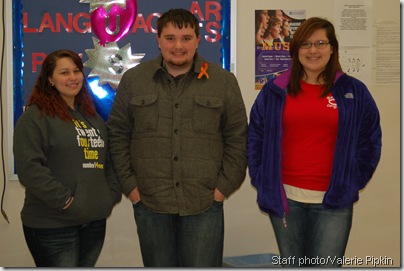 Stephanie Hill, Greydon Williams and Kaytie Castanon
VALERIE PIPKIN – Hoof Prints Staff
Hard work, dedication, and preparation is what it takes to make the All-Region Choir. This is a goal for many choir students around the NEA. This is even a goal for many BIC students.
Each year BIC choir students give up a Saturday in the hopes of being selected to the prestigious All-Region Choir. After weeks of practice, it all comes down to how each member performs the selection of the All-American music.
The top 20 performers, or chairs, in each vocal part are invited to be a part of the All-Region Choir performance a couple of weeks later. Greydon Williams, Kaytie Castanon, and Stephanie Hill all made the mixed choir. For Castanon and Hill this was their first year making the mixed choir.
Making the mixed choir was Hill's goal for her senior year so she felt very accomplished when she succeeded. Williams had made the mixed choir as a freshman once before.
On the day of the concert at ASU's Fowler Center, the students meet their director. This year it was Dr. Whitworth. According to the students, he was very outgoing and likes to use interesting metaphors to help the students understand better.
"Once he told us to imagine a poodle standing up on his hind legs with boxing gloves on punching you in the stomach," Williams said. "The guy was insane but really good at what he did."
For the students, it was an honor to perform with such a talented group of singers.
"The concert went great! You can't really have a bad performance with 160 of the top kids in your region." said Castanon
Williams and Castanon have set goals for all-region choir before they graduate. Williams wants to make it again next year as a senior and move up to a higher chair than this year. Castanon wants to make it in the top ten chairs before she graduates. Unfortunately this was Hill's last year to try out, but she did reach her goal she set last year. All the hard work and dedication paid off.
In addition to preparing for the day ahead of her Hill had some admirers who prestigiously asked her for her number a countless amount of times. Williams even heard the admirers talking about Hill and how they could "win her over".
At first they simply asked; however, she respectfully declined. Since that didn't work one of the boys decided to serenade her with a love song. Hill still had to say no though.
"I was almost tempted to give him my number anyway," Hill said. "He went through all that trouble and he even sang the song better than the artist who sings it."
According to Hill making All-Region Choir is very rewarding and much worth the stress that comes along with it.
"It's a good experience," she said. "It's good to have challenges, and it's good to have pressure sometimes. Then to get rewarded with it by getting to sing in a choir that good makes it all worth it."