Breakups, makeups and cover ups -"Pretty Little Liars" Winter Premiere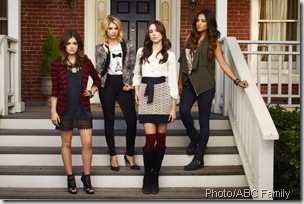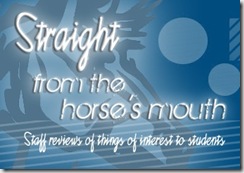 VICTORIA PEREZ – Hoof Prints Staff
These "Pretty Little Liars" had thought they'd seen it all. From enduring heartbreak to betrayal and even murder,Aria, Hanna, Emily, and Spencer just can't seem to catch a break, especially with "A" constantly watching their every move. However, no one could have guessed what lied ahead of them during this season's winter premiere.
The Lying Queen Is Back
She's Alive! Alison DiLaurentis, more commonly known as Ali, was believed to be dead when her body was found during the first season of the show. As they unearthed Ali's body while remodeling the old DiLaurentis house the Liars felt as if they could finally find closure. In spite of this, during the season four summer finale, Ali revealed that she was in fact alive and hiding for someone who wants to harm her which causes them to be more confused than ever. The winter finale looks deeper into what could have caused Ali to fake her own death, and gives the Liars more motivation to find their tormentor, "A."
Who's in the Box?
So, I guess the question all of the "Pretty Little Liars" viewers are asking is "If Ali is alive, then who did they discover in her backyard?" Although nothing is truly revealed, we do see some new faces this episode that may hold the answer to that question. I was very surprised when Hanna decided to prove that she's more than just a pretty face by doing her own investigation rather than relying on Spencer to do all the dirty work. Maybe the girls will have more luck getting rid of "A" if they can figure out the mystery of who really lies in Ali's coffin.
In Hindsight…
I really appreciated the fact that Emily was so open with Paige, her girlfriend, as to what happened between her and Ali. As Emily told Paige about her history with Ali, I thought Paige wasn't going to take it well, yet she amazed me yet again by showing love and compassion towards Emily. Personally, I'm growing to seriously like Paige and Emily's cute relationship.
Rocky Relationship
I personally don't watch "Ravenswood", the "Pretty Little Liars" spin off show in which Caleb, Hanna's boyfriend, stars yet this episode made me feel as if I should start. Caleb's secrecy leads me to believe that maybe there are more clues to help figure out why Caleb and Hanna are having so many relationship problems. I hate the fact that Caleb and Hanna may be coming to an end, but everything happens for a reason. Maybe this will help the Liars discover how "Ravenswood" is  connected to "A."
Teaching is a Part Time Job?
During the summer finale, I was shocked to see Ezra, the Liars' English teacher and Aria's ex-boyfriend being shown as "A." Although, we've seen several innocent characters being framed as "A" throughout all of the seasons, Ezra seems to be doing some very suspicious activity that lead me to question whether or Ezra truly is "A." So is teaching just something he does to keep his cover and keep close to the Liars? Well, the events during this episode sure seem to make it seem that way. I'm certainly looking forward to uncovering what Ezra's true intentions are towards Aria and the other girls.
A Season of Surprises
By the looks of it, this season of "Pretty Little Liars" is sure to keep me at the edge of my seat. Not only was this particular episode packed with clues, but it also added so much more drama  that is sure to make for a very interesting season.  Maybe this season will help both the Liars and the audience uncover who 'A" is and why she seems so determined to ruin their lives. Clearly, "A" can hold a grudge. If only we knew who "A" is, then maybe we can figure out why.