Breaking the C.O.D.E.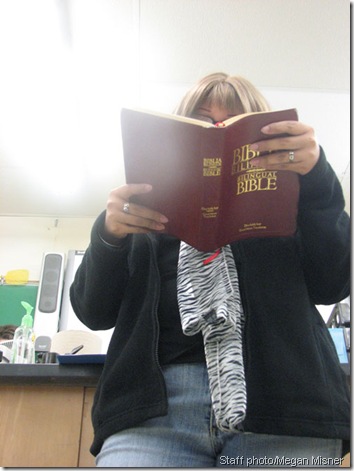 Ana Meza gives a devotional during a recent C.O.D.E. meeting.
KAYLA STACY – Hoof Prints Staff
Over the summer, seven students came together to form the school's newest club, C.O.D.E.
C.O.D.E (Changing Others by Devoting Everything) is a student-led, Christian, organization that is similar to junior high's Campus Connections. "I mentioned to Nicole Poe that I was disheartened and disappointed with the amount of involvement that Christians had in high school," Colby Qualls, co-founder said. "Nicole sympathized with me and then that convo is where C.O.D.E came from."
Poe and Qualls then began the process of getting approval for the new club from the administration. The process needed for C.O.D.E was actually easy and short, according to the founders. Qualls and Poe came up with the basic organization for the club and then asked five others to help. These students had a meeting prior to the school year to discuss what C.O.D.E is about and what needed to be done. Next, Nicole asked Mr. Randy Rose for permission. From there, they had to find a faculty member as a sponsor. Mr. Eddie Dunigan, science teacher, volunteered.
As of now, the future is a little uncertain for C.O.D.E. "Specifics are a little vague this year; it's like a trial run," Qualls said. He also said that they would have fundraisers for future projects.
C.O.D.E boasts that it is not just an ordinary club. Its theme implies that members must devote everything to Christ instead of only portions of their lives. "We know what we're supposed to do and we do that by spreading the word among high school. By starting C.O.D.E, We're creating our own family," Poe said.
C.O.D.E's first meeting was September 1, at 7:15 a.m. with 20 people present. Qualls opened the meeting by explaining the meaning of C.O.D.E and what was to be expected. "C.O.D.E was created in hopes of bringing the adolescent brothers and sisters of Christ together. This is our safe haven where all can find love, acceptance and most importantly Christ," Qualls said. He followed with a sermon referencing five Biblical passages. Nathan Whitlow closed with a prayer.
Meetings are held every Tuesday at 7:15 a.m. in Mr. Dunigan's room. Interested students are encouraged to attend.