BIC Students Travel to Honduras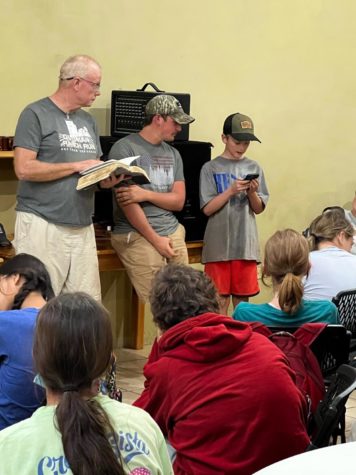 Four BIC students recently had the opportunity to travel out of the country for the purpose  of doing a good deed. Porter Couch, Chandler Gathright, Presley Gathright, and Wyatt Cornish all attended a mission trip to Honduras earlier this year alongside 10 other people from the Black Oak Church of Christ.
  The group traveled to Santa Ana, Honduras so that they could help the local people by building homes and distributing  food to those in need. These students had a very unique experience while there, traveling to a place where resources are very limited, as opposed to going on your typical vacation to a popular travel destination.
"Honduras was really different from the US because it looks nothing like America. The houses, the buildings, the cities all look nothing like what we have in our country. But it was a great place to go. I always felt safe wherever I went, and the people are amazing. There was a language barrier, but the people there are really grateful and seem happier than a lot of people do in America," said eighth grade student Chandler Gathright.
Porter Couch echoed Gathright's sentiment of appreciation for the opportunity, saying, "This mission trip was a great experience because I made a lot of new friends.  Everyone came together,and we all built five houses while we were there.  We had to lift a lot of heavy stuff and work in the heat, but it was so worth it." said 5th grader Porter Couch.
Junior Presley Gathright valued the experience because it allowed her to feel like she's doing what she's meant to do by helping those who are less fortunate. "I went on this trip to help spread the word of God, but I had no idea it would be so impactful for me. I will never forget my experience in Honduras because it opened my eyes to everything I have, and I see that I should be grateful," said Gathright.
Senior Wyatt Cornish said that he will cherish his experience, and explained that it was quite unlike any experience he has had before. "The most difficult part was having to see starving families and having to see people have nowhere to live, but the best part of the trip was getting to build homes for people, handing out food to people who really needed it, and getting to spread the word of God," said Cornish.