Being Cory: not just another country story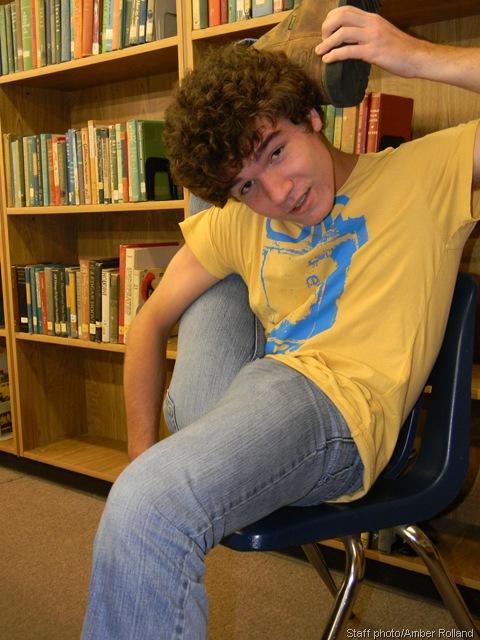 Cory Wood demonstrates his flexibility.
AMBER ROLLAND – Hoof Prints Staff
His little sister thinks he's weird. He describes himself as mellow. But most students know him as Cory Wood, the kid with the curly brown hair they see in the hallway between classes.
Anyone can see that he acts like a typical country boy living in Arkansas: His greatest ambition in life is to own a large farm corporation where he sees himself driving a combine in ten years. Currently, his favorite song is "If That Ain't Country" by David Allan Coe. He loves to hunt and proudly talks about the 12-point buck he brought down last season. The song that best describes his life is "A Country Boy Can Survive" by Hank Williams, Jr.
What they don't know is everything else.
Among his heroes are the Teenage Mutant Ninja Turtles (specifically, Raphael) and Buddha, whom he respects after reading Siddhartha in the eighth grade for overcoming his many hardships to become happy with life.
He has a great interest in wars, as evidenced by his discussions of routes used during World War II and the process the Marines use to take a building. This interest possibly stems from the fact that he owns a .50 caliber sniper rifle from the Korean War, an item he counts among his most valued possessions.
His favorite book series, Redwall, includes main characters in the forms of cats and mice and has been published out of chronological order since the late 80s.
He could have a potential future as a body contortionist as he can put both of his feet behind his head with little effort. That's only if his farm corporation falls through, of course.
He'd invite Jesus to a fantasy dinner party so he could say he had the last supper with Him – wearing traditional robes, of course.
One incident involving an airsoft gun and a closet full of t-shirts with questionable slogans later, Cory Wood is still just an average teenage boy with an aspiration to go skydiving – fishing poles sticking out of the back window of his Jeep and all.