Band director turns passion into career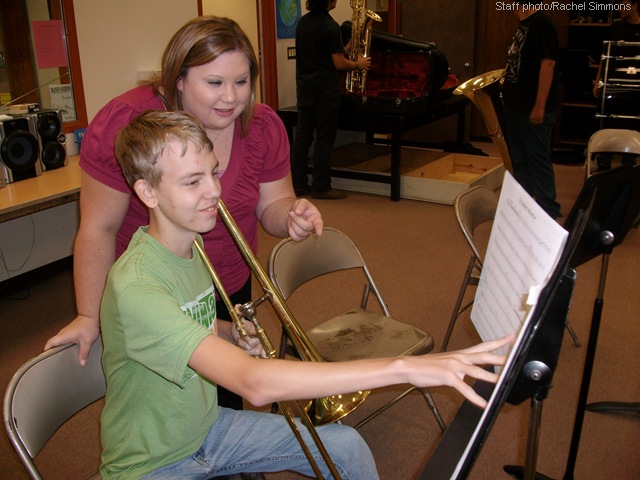 Band director Ms. Kristyn Smith goes over a piece of music with longtime band member Jeffery Allen.
RACHEL SIMMONS – Hoof Prints Staff
Every once in a while, she thinks that her students' instruments might be messing up or that someone has an emergency, so she has to stop and ask if everything is okay. After being reassured that everyone is fine, she realizes the mistake she has made.
The agriculture department has several goats that are raised directly outside of the band room that they use for cattle shows. They insist on making a noise here and there and the odor they give off never goes unnoticed. Maybe the goats just feel the need to let everyone know that they're still there incase anyone has forgotten. They sure know how to give Ms. Smith a scare.
Ms. Kristyn Smith began the 2010-2011 school year as the new band director. She has always had a great love for music. Ms. Smith was first inspired to go into the music business around the sixth grade when she decided to join her school's band. She played in the band every year from then on until graduation. By having the same teacher in band for seven full years, Ms. Smith was very inspired by her band director. They had a bond that influenced her to make the career choice she did. She only hopes to influence her students the way her teacher did, and she thinks being the new band director is a great opportunity to do so.
College was also a very fun and interesting experience for Ms. Smith. She attended UCA in Conway, Arkansas, and was a part of a service sorority. With her sorority, she participated in a lot of community service, and held several fundraisers. They also worked with Girl Scout troops in their area and helped them to earn their music merit badges. While in college, Ms. Smith also worked at a few daycares in and around Conway.
She found that her music methods classes very helpful. She spent her seven years in junior high and high school learning how to thoroughly play one instrument, but when she enrolled in a music methods class, she learned how to play multiple instruments in a short amount of time. She jokingly referred to the class as a "crash course in just about everything."
Ms. Smith found her music history class to be quite interesting as well. She spent her semesters learning all of the history and background of music. When the class was over, she and her winds ensemble took a trip to Austria where they toured sites such as where Mozart lived and Beethoven's burial site. Her student teaching was completed at Greenbriar Junior High and High School just outside of Conway.
Ms. Smith sees herself having a future here.  She lives in Jonesboro, so she feels that BIC is a good location for her job, that isn't too far from home.
"BIC is a great place. There's a lot of room to grow. There's been a great foundation here," said Ms. Smith, "I also like the small community of BIC. Everybody knows everybody, everybody takes care of everybody, and I like that a lot."
Aside from her band director's position at Buffalo Island, Ms. Smith has a few hobbies. She has had a love for photography for quite some time. She was yearbook editor throughout high school, and enjoyed it very much. She is also interested in many sports. Softball, in particular, is one of her favorites.
On Monday and Tuesday afternoons, Ms. Smith has a very special job. She is the color guard instructor for Jonesboro High School and East Poinsett County High School. From creating their routines to coordinating them on the field, for the JHS and EPCHS color guards, Ms. Smith says, "I'm it."
"I think it's a really good way to relate to people," said Ms. Smith, "and if you can't talk about anything else, you can talk about music."