Another busy day for Qualls at USSYP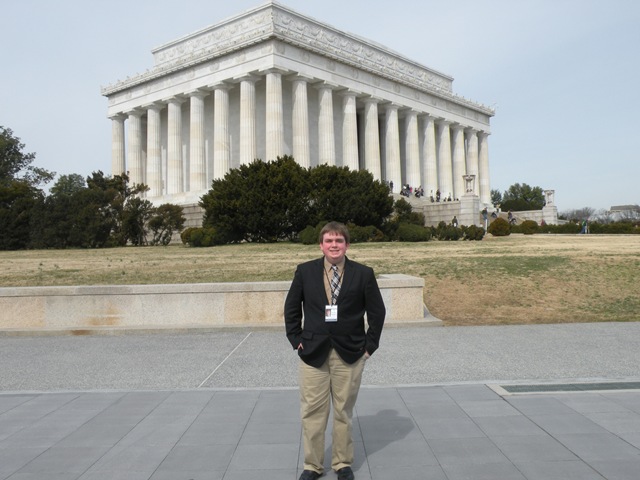 Colby Qualls stands near the Lincoln Memorial.
Adviser's note – Colby Qualls, Hoof Prints editor, was selected as one of Arkansas's two delegates to the U.S. Senate Youth Program in Washington, D.C. From March 5-12, he will be blogging about his experience and it will be posted here.
March 8, 2011
COLBY QUALLS – Hoof Prints Editor
It seems that every day is more jam packed. It seems that every day there is a new surprise. It seems that every day ends way too soon. Even though the day seems to end right when it starts, as soon as I begin to contemplate about my blog, I start to draw a blank. This isn't because there is nothing interesting to mention; it is actually the contrary. It's because a whole week's worth of activities somehow fits into a 24 hour increment of time. The task of even describing every moment, every thought, and every emotion is daunting indeed. But, I made a promise to friends, family, really anyone who is interested. So, I shall try to start from the beginning.
Breakfast was actually a little later than usual. Of course, I took that opportunity to sleep in late. So even though we had more time to prepare for the day, somehow I was almost late for the breakfast ceremony. I suppose that is why schools and organizations always have such strict rules and regulations. When there is slack present in anything, we tend to be lazy. Anyway, after breakfast, our speakers were Steven Chu, the Secretary of Energy, and Meredith Baker, a commissioner of the FCC. I found the subjects both speakers talked about to be fascinating. Honestly, my knowledge in either of their respected fields was, and still is, relatively little. Yet, listening to these brilliant minds talk about their passions encouraged me to want to learn more about them in general. Doctor Steven Chu hit on points that President Obama has made before, most recently at the State of the Union address. The solution for alternative energy will be determined by a race. The country that devises the most efficient solution in the least amount of time will be a world leader. Many officials have compared this to the space race.
Now, I know many Americans are slightly resistant to new types of fuel. We want to see other nations try out it first in case it might be a failure. Sitting on the sidelines though is not an option. Gas prices are continuing to rise while our actual oil resources are depleting. Something has to give. And if China for example wins the race, or any other country for that matter, then we will be dependent on this new type of energy just as we are now with foreign oil. This is part of what I learned from Doctor Chu. I also learned more in depth about the role of the FCC through Commissioner Baker. If you are not well acquainted with its functions, just keep in mind that they are known for enforcing censorship. They are the ones who decide what is considered indecent for the general public on major networks.
After listening to our beginning speakers of the day, we boarded our buses to head to the Lincoln Memorial. I felt such an awe being at this monument. It is the place where Martin Luther King Jr. gave his "I Had A Dream" speech. It is also the place where one of our greatest presidents is remembered. The feeling of that moment is almost indescribable. The atmosphere is simply electric, and I would love to one day just sit there and be able to contemplate and think.
Next, we listened to two alumni speak about the USSYP experience in general. Congressman Cory Gardner and Senator Susan Collins spoke about how this experience affected their lives. If I am fortunate enough, maybe I will one day be able to speak to the younger generation about how I was elected to Congress. These great speakers though persisted that anything is possible. Listening to a congressman is an experience of a lifetime, whether you agree with their politics or not.
We also took a tour of the Capitol building in general. It is simply beautiful. I was able to watch the senior Utah Republican introduce a bill in the Senate. It actually opened my eyes to the reality of our government though. During these addresses, the chamber is usually empty except for that single senator. The other senators only know what he said because cameras record the address for others to see later. Yet the camera zooms in so it doesn't show an empty room, and the speaker speaks as if the room is packed. Personally, I don't like this. I think it takes a lot of the whole experience of being representatives. Maybe I will understand more when I am older.
Our final speaker was Senator John Cornyn. Like the other politicians, he is a great man. He is also a good speaker. Personally, I felt he dodged questions about the Dream Act. Other than that, I really had no complaints. By the way, we had a five to six course meal tonight for dinner. It was in honor of Fat Tuesday. I was so worried the elevator wouldn't be able to pull myself up to my floor after that wonderful meal.
Before the very time of lights out, different delegates tried out to be a keynote speaker for our farewell dinner. As I listened, it struck me how these men and women will one day lead our nation. There is no doubt in my mind that one of us will be President of the United States one day. Now, cliques are starting to form. I mean, everyone gets along well with each other, but there is becoming a pattern of smaller groups trying to stick together at every event. Personally, I am not a fan because I think part of the experience is mingling with someone new at every meal and every event. But to each their own I suppose.
Tomorrow will be probably be the most exciting day. I visit the White House, State Department, and Senators Reception. So I may possibly meet President Obama, Secretary of State Hillary Clinton, and the AR Senators Mark Pryor and John Boozman. No matter what happens tomorrow, I will be sure to let ya'll know.