Alternative learning for BIC students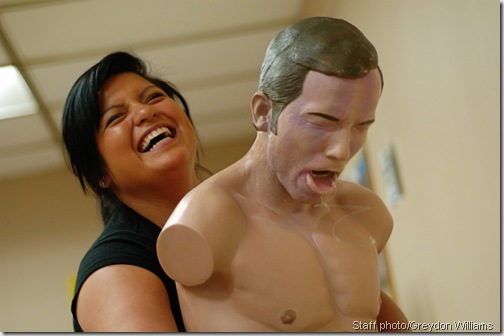 Karina Hernandez demonstrates the Heimlich maneuver at vo-tech training at Jonesboro High School.
GREYDON WILLIAMS – Hoof Prints Staff
Preschool, Elementary, Junior High, High school. College? Not every student who graduates plans on going on to college, but many classes students take are under the assumption that they do.
This year BIC gave students a new option with the introduction of vo-tech courses. These courses are taken for half a day at Jonesboro High School, and vary in fields such as medical, mechanics, and culinary. As of right now only a few students are able to attend, but the future plan is to allow any interested students to go.
"I joined vo-tech because I wanted to get ahead in my career, which is nursing," Selena Castanon said.
Students taking the course this year are mostly seniors because to take the class you must be able to miss all of afternoon courses.
These courses not only prep the students for a career, but can also give students paid jobs. Some students will have the option to begin working for certain businesses once they finish the vo-tech course.
"Right now I'm working on my car in auto service, and I plan on using what I learn to open my own shop some day," Alex Hatcher Said.
Currently, vo-tech students get on a bus at the start of 5th period and travel to Riverside which takes them to vo-tech. In the future BIC plans to take its own bus to vo-tech to allow more students the opportunity to take the courses.
Vo-tech is seen by many as a new option for students who may not want to go to college long or at all. Students learn hands on skills in fields they otherwise would not learn in regular high school.
"I'm studying to get my CNA license in medical procedures and get some college credit in the process," Brianna Bearden said.