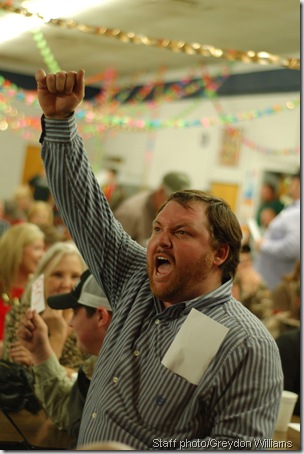 SOLD! Agri instructor Bruce Fires confirms a winning bid at the annual FFA auction on Monday, March 11 at the BIC West Elementary cafeteria. Now in its third year, the popular event raised almost $23,000 for the FFA. Proceeds will be used to help members offset the costs of showing livestock throughout the year.
GREYDON WILLIAMS – Hoof Prints Staff
Bidding, selling, running, eating. Common sights during the BIC FFA auction. This yearly event is the FFA's primary fundraiser  and gives people the chance to not only support FFA but get a few things as well. People from local businesses, farmers, as well as community members donate items to be sold in the auction, and the FFA itself will sometimes craft things to be sold.
A variety of items are sold at the auction including farm seed, duck calls, food, a puppy, etc. The auction, ticket sales and raffles made approximately $23,000 with around 250 people coming to the auction. These funds go towards deducting the price on things such as the live stock shows that the FFA members attend.
"It goes to try to keep the cost for kids down," Bruce Fires, sponsor of BIC FFA said.
One of the most expensive items sold was a few bags of cotton seed which went for approximately $1,500.
Another set of items sold were the duck calls; however, the duck calls were not just ordinary duck calls. They would be sold every 10 or so items and they entitled the buyer to a chance for a drawing for a shotgun. This is something the FFA does every year at the auction, and they order specially engraved duck calls to use for this drawing
"When they buy the duck call, they are getting a chance for the gun, but they also have something there that they can actually have and be proud of," Fires said.
Fires said the attendance was actually down around 50 people from last year.
"Between baseball games and it being a Monday night and that kind of stuff that's part of it," Fires said.
He also said that he spoke with FFA members and is considering having it on Saturday nights to make it easier on everyone.
The items are usually donated from businesses, farmers, and community members.
"Probably 95 percent of the items are donated," Fires said.
Not all the items are donated. Some things are bought so that there are simply more items, while others are made by the FFA.
There were approximately 150 items at the auction which according to Fires is more than he wanted simply so everyone could go home before it got too late at night.
"We finished up about nine forty-five, ten o'clock something like that," Fires said.
"It was a great success. I've had people call me all morning telling me how much fun they had."
The FFA members also have a lot of work to do that night. Some have to walk around and make sure everyone sees the item so everyone will know what they are bidding on. The officers of FFA also had to go to Paragould to ask local businesses for items to donate.
Attending the auction were other agri teachers doing whatever they could to help in the auction.
"That's the thing about FFA we are a national organization, not a school organization or a state organization we are a national organization," Fires said.