After Movie Continues to Build on Success of the Novel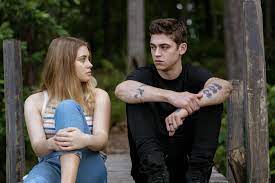 The movie After hit theaters in April 2019, but is worth a revisit. This is the first film adaptation of four or Anna Todd's novels, which were all big hits with readers. These books are tremendously popular because of their exceptional plotline, and the film does a great job of following along. Many opinions have surfaced about the film, but I personally feel that this movie is incredible. 
After is about a young, inexperienced highschool girl,  named Tessa,  on her way to college. She gets a rude awakening when she meets her new roommate, Steph. Everything is new, along with plenty of new opportunities. Tessa's mother doesn't like the impression of Steph, and hopes she doesn't change from her bad influence. Tessa gets scared when she walks in on a mysterious stranger sitting on Steph's bed. Annoyed, she has him leave after he criticizes her. Later on, she sees him unexpectedly in her classes. Eventually, she knows his name, Hardin Scott. Steph talks Tess into going to a party and she gets set up by Hardin and the rest of the group. All Tessa feels toward Hardin is irritated, but he somehow manages to get her trust. Little does she know why he's giving her the unexpected attention in the first place. She learns about Hardin's troubled past and his absent father. This brings an answer to why he acts the way he does. Their love grows, with toxicity as well. When the truth reveals itself, will their love be put on the line?
In My Opinion, this movie is really good, especially if you're all for Romance and Drama. It fills you with different emotions and keeps you on the edge of your seat. It grabs a hold on your attention, so you want to keep watching.The two main actors, Heroes Fiennes Tiffin and Josephine Langford, share their talent in this movie by showing you their good on screen chemistry. It gives emotional scenarios and relatable topics.
          Personally speaking, I think that the best part of the movie was Hardin sharing a piece of him with Tessa. He may appear all tough and outspoken , however he has a lot of baggage to carry. Letting go has never been an option when it comes to feelings and past troubles. Tess is understanding with him because she can relate in some ways he'd never expect. They feel that they need each other and this is what keeps drawing them back. Even if what they have is far from perfect.
The turning point in the movie was when a secret Hardin had, come out, leaving Tessa confused and heartbroken. She was unsure if their relationship was a lie the whole time. Which it had been, but what they have couldn't just be forgotten. It started out with a lie and became something much more than Hardin thought. But he knew it couldn't just be happy for them, now or later it would be set free.
Overall, I think that After is a really good film and I would suggest it to anyone. It brings you the suspense you could want out of something of the sort, plenty of drama, and a love like no other. All the factors someone similar to me may want. You will get an experience like no other watching, so I would like to advise you to go see for yourself.