Medical goals a priority for Talavera
His passion for the medical field started from a very young age, and from there has developed into constant preparation for his dream career and ambition to be a surgeon. As a high school sophomore, Alex Talavera attended the Junior Volunteer Program and his love for medicine erupted.
In this program, students visited St. Bernard's in Jonesboro four days a week for a month. They were allowed to view surgeries, job shadow doctors, and even work on a project for St. Bernard's pharmacy department that would change medical IDs on prescriptions. A very prestigious honor was given to Alex when he was chosen to be one of 4,000 students across the US to attend The National Academy of Future Scientists and Technologists in Boston over the summer.
While in Boston, Alex was in meetings and attending conferences from 8 a.m. to 11 p.m. every night. He was even fortunate enough to meet astronaut Buzz Aldrin. This experience is where Alex got the opportunity to apply to go to India for The Ultimate Medical Internship in Ahmedabad, Gujarat, India, for the summer. He will be staying there for two weeks in July to job shadow and work in a local hospital. He will be allowed to deliver babies, assist surgeries, tend to patients on an everyday basis and dissect cadavers in the hospital's morgue.
Alex has discovered that the road to success comes with many sacrifices. He has to miss out on being a high schooler in many ways.
"The extra hours of studying and conferences I attend hinders me from going to parties, games, and just socializing on weekends with friends," Alex said.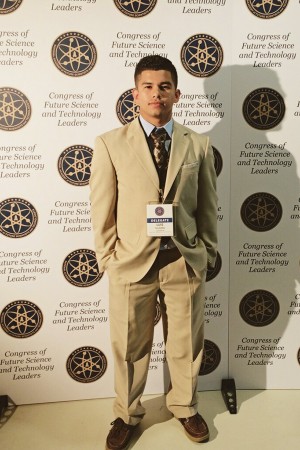 Working hard has been a choice that Alex had to make on his own, his family has always supported him, but never really pushed him to go above.
When Alex chose to be a doctor with the hopes of becoming a surgeon, he knew it would require a lot of hard work.
"I spend a minimum of four hours every night studying, along with working a part-time job," Alex said.  
"
I know I am taking many risks to go, but I feel that it is worth it to put me a step ahead on my medical journey."
— Alex Talavera
Alex is a very hard working student. He has all A's, makes his own money, and is self driven to achieve the things he believes in.
"When I applied for the India internship, I didn't think my chances were very high because only fifty students get chosen for each trip, but I pulled it off," he said.
Of course, his family is very concerned for his safety and even he has considered the possibility that anything could happen in a country to limited to resources and safety.
"I know I am taking many risks to go, but I feel that it is worth it to put me a step ahead on my medical journey," he said.