Students busy finding their religion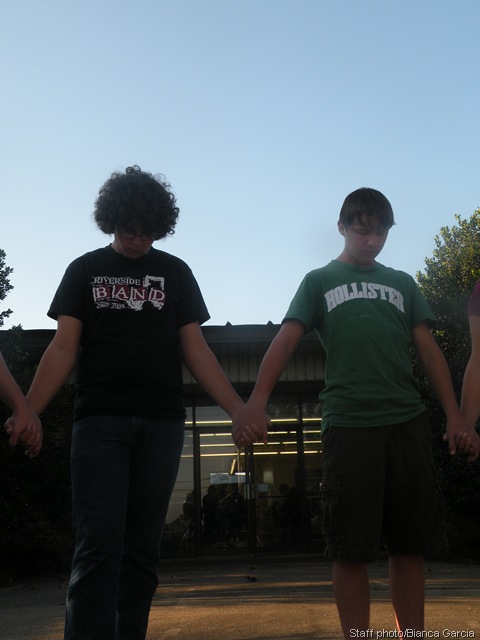 John Cook and Tyler Boone join hands with other students during the recent See You at the Pole event.
COLBY QUALLS – Hoof Prints Editor
A chilly wind whips the U.S. flag in a haphazard zig zag. The first breath of autumn sweeps across the lawn in front of the school. Morning dew shimmers in the rising sunlight. The school front is calm, serene. An irregular circle forms in front of the flag pole. Students lock hands and bow heads. While cars hum and sputter down the highway, distinct audible voices are heard. The number of students was comparable to a larger basketball team yet the vocal prayers echoed through the schoolyard.
Annually a group of Christian teenagers meet in September to recognize See You At The Pole, a national day of prayer led by students that takes place around a school's flag pole. Compared to last year, the number of participants was down. Usually students are able to form a stretched circle around the perimeter of the flag pole. This year students had no choice but to keep the circle in front of the pole due to the dwindling participation.
In response to the low number, a group of students reformed C.O.D.E. to encourage students to have a more active role in their faith. John Cook, a devout member of the club last year, was one of the students that felt a change was needed in the organization of the gatherings. Instead of being recognized as a club, he, and other members, felt it would be best to be an informal group.
"The meetings last year weren't anything special, just the usual five people attended," John Cook said.
Other changes were implemented such as the time of the meetings and the location. Last year students would meet before school on Tuesdays. This made it impossible for the girl basketball players or shuttle bus riders to be present. It also took place in Mr. Dunigan's classroom. Some students said they were intimidated by the closed setting created by the classroom which is a fair distance from the student lounge. This year meetings now take place in the library during lunch. Since these changes, the average number of students present range from 20 to 30 at each meeting.
"People expect a Christian group to be a bunch of, you know, 'goody two shoes,' do everything right and get good grades type of people," he said.
John, a student who primarily wears black, occasionally curses, and listens to heavy metal music , hopes to break that image of Christians. He claims that he is the perfect example. If he is able to represent Christ with all of his imperfections, then others will be able to do it as well.
"I don't expect every student to have a Bible in their lockers," he said.  "I want this community to have an understanding of what God is and what the message actually is."