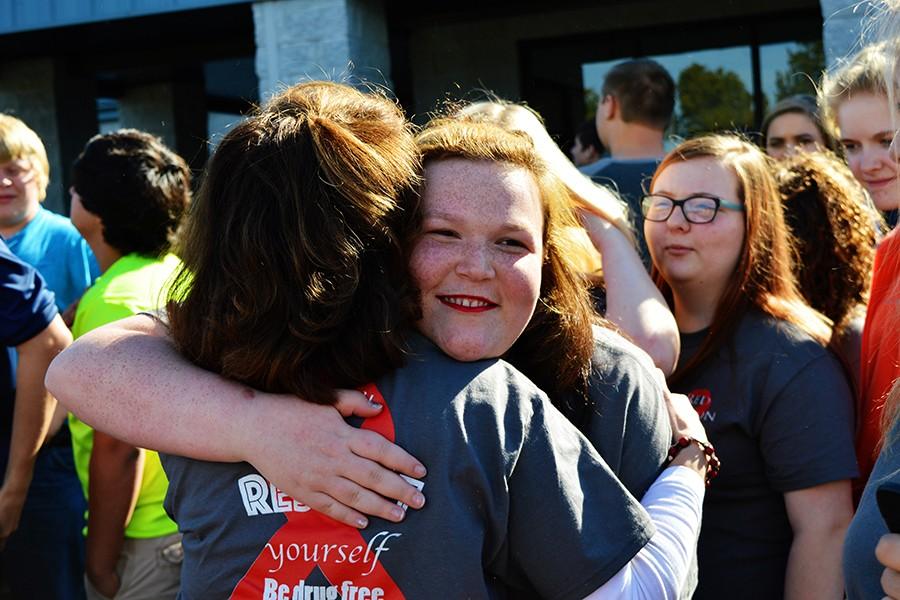 Camden Metheny
The typical public school Red Ribbon Week features kids dressing up in themed outfits and handing out pencils imprinted with an anti-drug message. This year, some students decided to change up the usual routine.
A group of students that are a part of the EAST Initiative arranged a Red Ribbon assembly. The assembly was created by Maria Hart, Sarah Vaughn, Samantha Gipson, Madeline Brinkley, and Lauren Bolt. Hart, one of the leaders of the group, has a deep connection to the subject.
"Drugs are very serious, and young adults don't take it seriously, especially in high school," Hart said. "We needed more awareness because after elementary, it just stops."
Due to her family's history with drug abuse, she felt the need to spread awareness and let people know the dangers of what drugs can do.
The assembly featured a video created by Hart and the others in her group, as well as two guest speakers, who were both recovering drug addicts. The speakers, Jenyi Wise and Jon Fears, both shared their emotional and troubling stories about addiction and the pain it caused them and their families.  They both have ties to the Buffalo Island community, as well. Wise grew up in the Buffalo Island community, and Fears is a friend of math teacher Ellen Cable.
The project took the entirety of the first nine weeks to complete. Hart also shared her story during this assembly, telling the struggles and heartache that comes along with growing up around drugs.
"It meant a lot to Maria," said Vaughn. "We really thought that she would be able to tell her story and that it would make a difference to the people here. She didn't want to do it by herself, and we felt that it needed to be done to spread drug awareness."